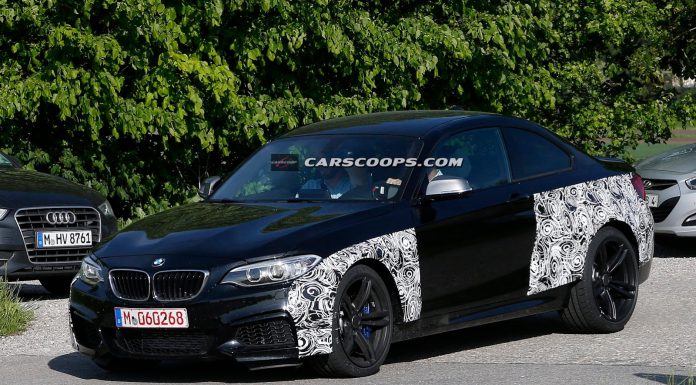 While BMW has yet to make an announcement, the general consensus is that the BMW M2 has been given the nod of approval for production. Now the very first prototype has been spied testing.
While it is difficult to say with absolute certainty this is the M2, the fact that this prototype features a wider track definitely means that an even more performance oriented 2-Series model is in the works. Besides the more prominent flared wheel arches, the body of this black prototype looks identical to the M235i. However, that's not important. What is important is what's hiding under the skin.
This prototype features upgraded brakes with blue calipers and cross-drilled discs. These new brakes will help ensure the upcoming BMW M2, likely to be unveiled sometime next year, will be able to stop ferociously time and time again from high speeds thanks to the more powerful engine.
While speaking about the engine, it was initially rumoured a high-performance four-cylinder was in the works. However, it has since been confirmed that the BMW M2 will feature the same 3.0-litre turbocharged six-cylinder engine utilised by the current range-topping M235i. Whereas the BMW M235i delivers 322 hp, the BMW M2 should deliver around 380 hp and perfectly bridge the gap to the M3 and M4.
When the car hits the market, more outlandish styling is inevitable including BMW Ms famous quad-exhaust pipe layout.
[Via Carscoops]