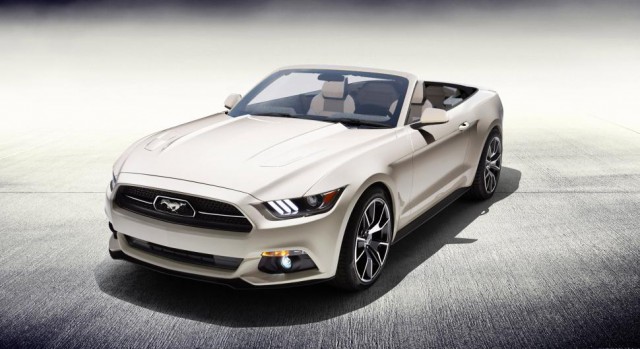 To celebrate the 50th anniversary of the Mustang, Ford unveiled the 2015 Ford Mustang 50 Years Limited Edition at the New York Auto Show 2014. While Ford presented a coupe, it also decided to create a one-off 50 Years Edition Convertible and that car is set to be auctioned off on August 16 with funds going to multiple sclerosis research.
With the obvious exception of a fixed roof, the 2015 Ford Mustang 50 Years Limited Edition Convertible remains identical to the coupe. As a result, it is based on the standard Mustang GT and features a host of visual changes differentiating it from the regular car.
Performance details haven't been revealed just yet, but the Mustang 50 Year Limited Edition Convertible is fitted with the same 5.0-liter naturally aspirated V8 engine as standard Mustang GT delivering over 420 hp and 390 lb-ft of torque.
Inside the cabin, the car features a uniquely finished axel spin finish across the aluminium trim panel spanning across the instrument panel. It also features individually etched badges as well as a cashmere-stitched, leather-wrapped steering wheel with similar stitching also being featured on the shifter boot, instrument panel, centre armrest, door inserts and seats.
When discussing the upcoming auction, Ford group vice president of global product development Raj Nair said, "We're thrilled to be able to work with and help The National MS Society again. That we're creating one – and only one – Mustang GT 50 Years convertible for the Society shows how much we respect and support their efforts."