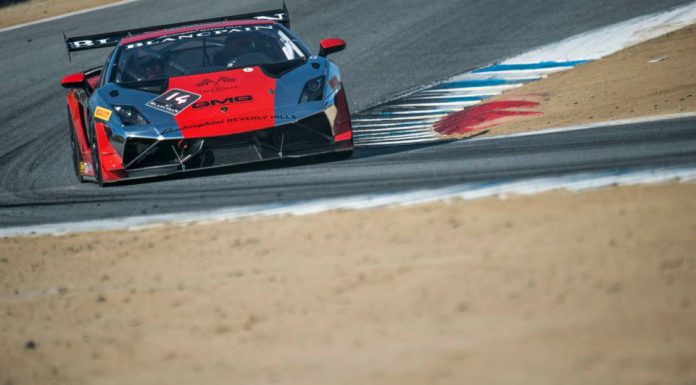 The third round of the Lamborghini Blancpain Super Trofeo took place at the Mazda Raceway Laguna Seca where 2013 World Final winner Andrew Palmer earned his first victory of the current season. Palmer finished the 50 minute race under caution in his No. 14 Lamborghini Beverly Hills Gallardo LP 570-4 Super Trofeo, albeit with a 20-second gap ahead of everyone else.
The caution was as a result of Tom O'Gara spinning off the track and hitting the tire barrier. In second place was 2013 series champion Kevin Conway in his No. 29 Lamborghini Carolinas Gallardo while the No. 80 Lamborghini Palm Beach team of Al Carter and Aleks Altberg finished in third. The next race takes place on May 4 at the same location before the teams take a break ahead of the Watkins Glen International round.
In the Amateur class, Kevin O'Connell took the win in his No. 9 Lamborghini Houston Gallardo, he was fifth overall. Scott Monroe finished second in the amateur class and eighth overall in his No. 15 Lamborghini Toronto. Third in this class was Ryan Ockey and ninth overall in the No. 88 Lamborghini Vancouver Gallardo.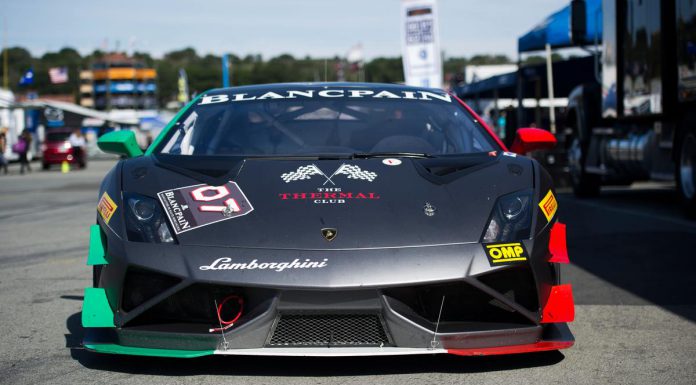 Quotes:
ANDREW PALMER (Winner, No. 14 Lamborghini Beverly Hills):
We started on the pole, and the GMG Racing guys and Lamborghini crew had an awesome car for us. We knew we were going to be quick, and we just needed to manage the race and manage the tires. We just got a groove going and laid out good laps times and built up a really nice gap. It was a nice, easy drive for us without a lot of pressure from anybody. When the caution came out, I thought we might have to fight a little bit the last couple of laps. It was unfortunate we ended under yellow, but it is what it is, and overall it was a great race. I think we have the best car on the grid. To build up a 20-second gap is fantastic.
KEVIN CONWAY (Second, No. 29 Lamborghini Carolinas):
The race day went well. We had not quite the start we were looking for, but it worked out after the round of pit stops. Everything cycled through. Everybody at Change Racing and Lamborghini Carolinas did a great job today. I'm excited about the momentum we have and learning a lot here at our first time at Mazda Raceway Laguna Seca. I'm looking forward to making some adjustments and going after (Andrew) Palmer tomorrow.
KEVIN O'CONNELL (First Amateur, No. 9 Lamborghini Houston):
It was really pretty uneventful. We just ran our race and stayed out of trouble. We had the perfect car, and once we got into P1 in our class, we just stayed there. Once upon a time I went to driving school here, so I know this track a little bit. It's a little bit like coming back home. This is where it all started, so it's fun to come here and actually win.
SCOTT MONROE (Second Amateur, No. 8 Lamborghini Toronto):
The race started out pretty aggressive, and it is a long race. Temperatures are up, drivers started fading out in the end, but all in all, it was a great race. I think we're pretty happy with the car and the setup. We're racing our race, and we're going to stick with what we've got.