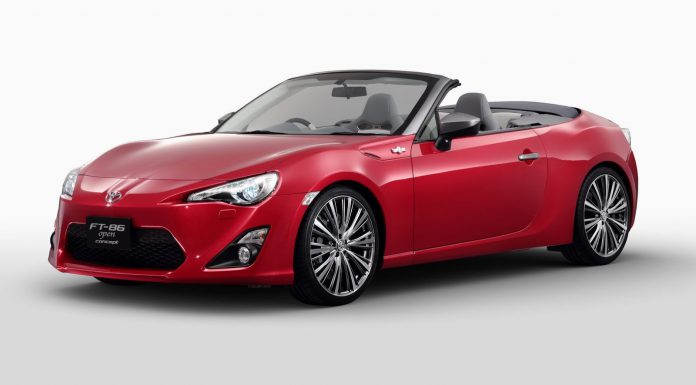 News about upcoming Toyota GT86 seems to surface every two of three months. Now the latest word from Australian publication Motoring is that convertible, four door and turbocharged/hybrid variants have all been given the go-ahead by Toyota.
Apparently the first new variant will be the long-rumoured Toyota GT86 Convertible despite Subaru previously confirming that it would not help Toyota develop or manufacturer such a model. Despite this, it is claimed the drop-top will arrive as early as this October. Thanks to the extra reinforcement need, the GT86 Convertible will weigh about 30 kg more than the coupe but feature the same 2.0-liter four-cylinder engine.
In 2016, a Toyota GT86 sedan will apparently debut and it will bring along with it turbocharging, all-wheel drive and turbo-hybrid systems. Under the hood, the GT86 Sedan will reportedly be available with two different engines. The first will be a version of the Subaru DIT turbocharged boxer engine delivering up to 295 hp and mated to an eight-speed automatic transmission. Importantly, this turbocharged engine could then find its way in the 2016 Toyota 86 coupe as part of a midlife facelift for the Japanese sports car.
As for the other powertrain, it will reportedly by a hybrid incorporating in-wheel electric motors at the front as well as Subaru's direct-injection boxer engine.
[Via Motoring]