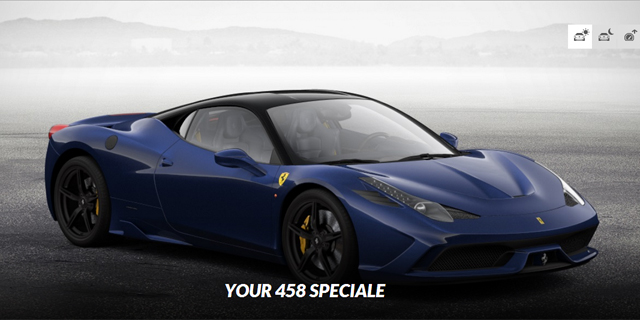 The Ferrari 458 Italia is one of the finest sports cars on the market. Consequently, when Ferrari first revealed the 458 Speciale last year, we knew it would be special and boy, has it proven to be just that. Now the Italian manufacturer has released the official online configurator for the car and we must say, it is one of the most intuitive and comprehensive systems we've ever used.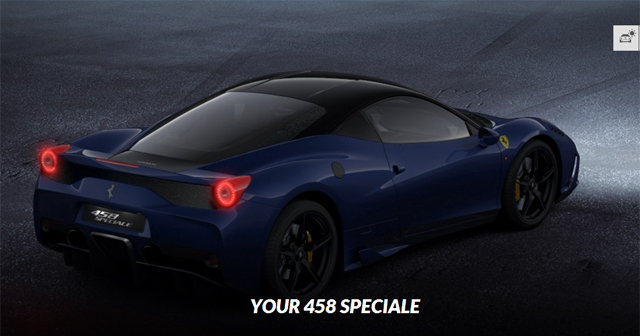 Allowing you to configure everything from the paint work, wheels and brake calipers, to the colour of the headliner and the material it is finished in down to tiny exterior carbon fiber accents and interior stitching, it is very easy to waste a lot of time on the configurator. However, you'll have fun doing so!
As a reminder, the Ferrari 458 Speciale features a modified variant of the regular 458 Italia's 4.5-liter V8 engine. In Speciale guise, it delivers a total of 597 hp and 398 lb-ft of torque thus making it the most powerful naturally aspirated V8 engine ever produced by Ferrari. What's more, Ferrari claims that thanks to it delivering 133 hp per liter, it has the highest ever per liter output of a road-going naturally aspirated engine. Maximum power is achieved at 9000 rpm while max torque is reached at 6000 rpm.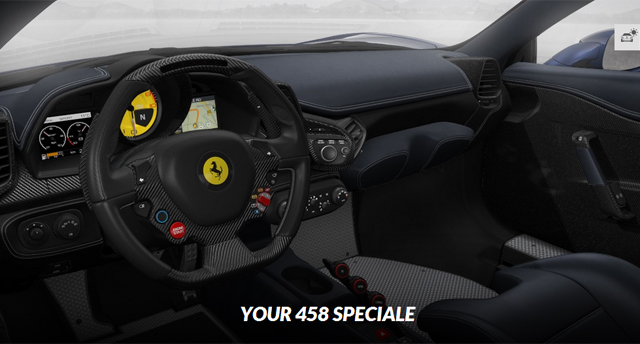 The Ferrari 458 Speciale tips the scales at just 1290 kg and Ferrari consequently claims a sprint time to 100 km/h in just 3 seconds and the car can then hit 200 km/h in just 9.1 seconds. What's more, Ferrari claims that the Ferrari 458 Speciale can sprint around the Fiorano test track in just 1:23.5 seconds thus making it 1.5 seconds faster than the standard car and just .5 seconds slower than the Ferrari F12 Berlinetta.