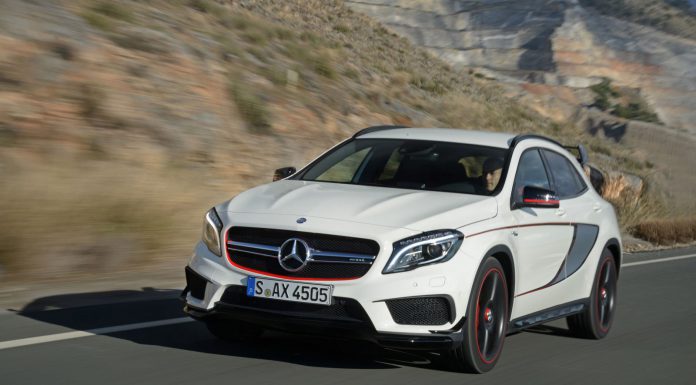 According to the latest word, Mercedes-Benz could be preparing to launch a separate model line of 'on-road' SUVs providing the space and size of their off-roading counterparts but with different driving characteristics and abilities. One such model could be a coupe-styled variant of the recently-launched Mercedes-Benz GLA compact SUV.
Such a model line-up could be launched once the production variant of the Concept Coupe SUV is launched in the form of the widely rumoured Mercedes-Benz MLC. While the name of the new SUV hasn't been confirmed, we do know that it will be built at Mercedes' Alabama production facility.
GTspirit Road Test of Mercedes-Benz GLA 45 AMG Edition 1

Whilst discussing the Concept Coupe SUV, Mercedes-Benz's research and development chief Thomas Weber said, "The Concept Coupe SUV previews a four-door, coupe-styled model that will appeal to customers who want a sportily designed vehicle with a high seating position."
Weber then hinted that once the MLC becomes a part of the firm's line-up, it could look towards create a model line of 'on-road' SUVs. While Weber didn't reveal any more than this, such a line-up could conceivably include a less off-road oriented variant of the GLA.
As for the MLC, it will rival the BMW X6 and is expected to be available with a host of different engines. For starters, both petrol and diesel V6 engines are expected alongside a very economical hybrid. At the top of the range, we can expect to see a V8 powered MLC 63 AMG and an MLC 65 AMG powered by a V12 engine!
[Via Auto Express]