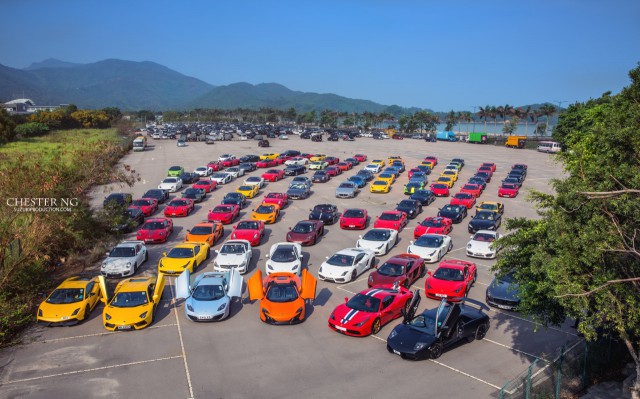 Hong Kong really is an exceptional hotspot for supercars. As a matter of fact, some of the world's rarest, most powerful and fastest supercars ever manufactured reside there.
Our good friend Chester Ng aka Suzuki Production recently had the epic opportunity to photograph a group of supercars so extensive and out of this world, that the above image really has to be dissected properly to really appreciate what it is showing.
Featuring mostly Ferraris and Lamborghinis, some of the awesome models pictured include a matte black Lamborghini Murcielago LP670-4 SV, Ferrari 458 Speciale, numerous 430 Scuderias and 599s among others. Some of the Lambos include a host of Gallardos including a Rosso Mars Gallardo LP570-4 Super Trofeo Stradale, numerous Aventadors and many more.
Alongside the Lamborghinis and Porsches, there are a host of McLarens including a brand new 650S Spider finished in Taracco Orange, as well as a Mercedes-Benz SL, Bentley Continental GT and a few Porsche 911s!