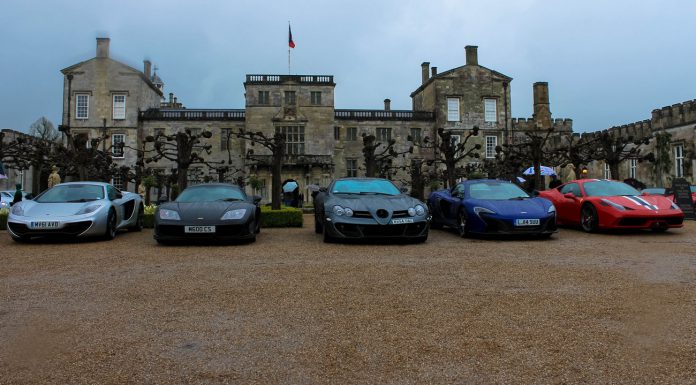 Occurring on the fourth Sunday of the month from April to September, Wilton Wake Up is a breakfast themed car meet at Wilton House in the English countryside. Today's meet was Supercar themed and featured models from McLaren, Ferrari, Lamborghini and lots more.
Unfortunately today's weather was less than ideal, but there was still a great turn out. Centre stage as you walked into the ground was the Mercedes SLR McLaren MSO Edition flanked one side by a McLaren 650S and Ferrari 458 Speciale, and on the other side a Noble M600 Carbon Sport and McLaren 12C!
Around the courtyards central water feature was a host of sports and supercars from around the world, a Mercedes-Benz CLK63 Black Series, Ariel Atom, DeTomaso Pantera, Lamborghini Gallardo Superleggera, Lotus' and a whole lot more. Their was two Tango Porsche 997 GT3RS' as well as Nissan GT-R's, V8 Bentley Continental GTs a SLS AMG and numerous Ferrari 458s.
Their was also a small collect of cars outside the gates to the court yard, mainly Toyota GT86s and AMG Mercedes, but the stand out car for us was one of just 500 Ford Sierra RS500 Cosworths.
During one of the downpours we took shelter in the Earl's garage, and found some more fantastic machinery. As you enter the garage the first car you see is a immaculate Mercedes-Benz 300SL Gullwing in the centre of the garage. Immediately behind it is the famous, now de-wrapped, Bugatti Veryon. Around the edge of the garage are another ten cars, ranging from modern day classics to legendary race cars and iconic classics.
Along one side is the Castrol Oil Bugatti Veyron, a Veyron made entirely from Castrol Oil bottles and barrels, with a R34 GT-R V-Spec II and a Fast and Furious inspired Honda S2000. Along the back wall of the garage is the legandary Ferrari 288 GTO, splinting the #2 Rothmans 1983 Porsche 956 and the #26 Preston Henn Porsche 956. The final wall of the garage has a white BMW M1, Datsun 240Z, Jaguar Mk1 E-Type Lightweight and a partially restored Maserati Maserati 3500.
As mentioned Wilton Wake Up is held on the fourth Sunday of every month, the next being on the 25th May, entitled "Calling All Classics″.