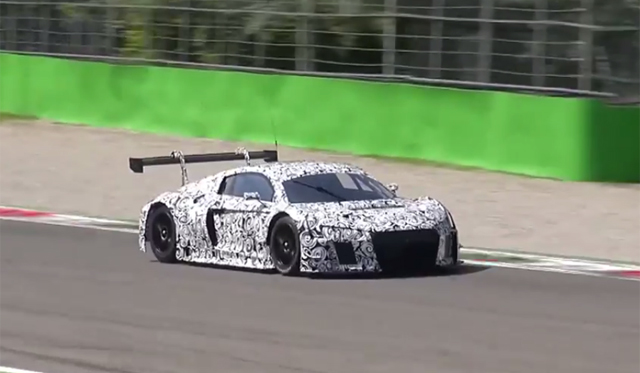 Audi has yet to even reveal the next-generation, 2015 Audi R8 road car and already, the racing variant, the GT3 has been spied testing ferociously at the Monza Formula One circuit in Italy.
Wearing heavy camouflage just like prototypes for the road-going 2015 Audi R8 have featured, the 2015 Audi R8 GT3 featured here can still be clearly distinguished from the current racer. From a visual standpoint, this prototype features a redesigned front bumper with a seemingly larger front grille.
[youtube]https://www.youtube.com/watch?v=2J6KGVXSvso[/youtube]
At the rear, it features massively flared arches as well as a revised bumper and also features a new top-mounted rear wing which looks a little bit taller than the current car. However, it is not just visual and aerodynamic changes which are present on this prototype.
It is believed that this prototype features a heavily revised or possibly brand new transmission resulting in even quicker gear changes. What's more, it is believed that the 5.2-liter V10 engine powering this latest R8 GT3 or possibly even the GT3 Ultra version, has been updated thanks to a different yet still extremely vicious and potent engine roar.
As for the road-going 2015 Audi R8, it will maintain the outgoing model's 4.2-liter V8 and 5.2-liter V10 but both will receive updates.