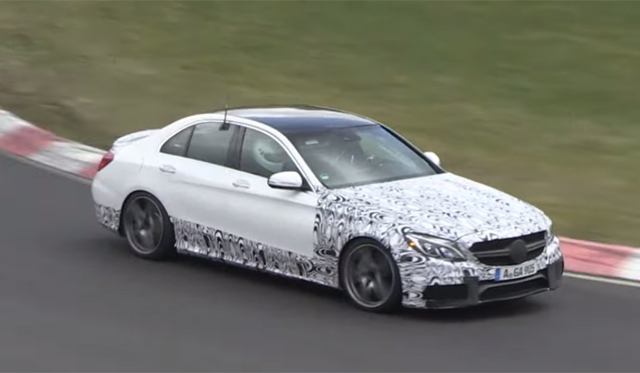 With the new 2014 BMW M3 Sedan have already garnered quite a lot of praise, it is little wonder why Mercedes-Benz is testing its next-generation, 2015 C63 AMG so feverishly. This time around, a white prototype was spotted tackling the Nurburgring at full speed.
The following video provides us with our best chance to listen to the brand new 4.0-liter twin-turbocharged V8 engine thus far and unsurprisingly, it is significantly quieter and less throaty than the vicious roar created by the outgoing C63 AMG and its awesome naturally-aspirated 6.2-liter V8 engine. As a matter of fact, the engine is so comparatively quiet that even tyre squeal can be heard over it through some corners!
[youtube]https://www.youtube.com/watch?v=WBSZCsXs9QU#t=30[/youtube]
This new engine will continue with Mercedes-Benzes introduction of smaller capacity engines and will eventually replace the current 5.5-liter twin-turbo. For those that didn't know, the AMG 6.2-liter V8 engine has been largely phased out and replaced by the 5.5-liter powertrain.
Currently codenamed M177, the new 4.0-liter twin-turbo V8 is predicted to produce between 480 hp and an incredible 580 hp depending on what specification is ordered. It will then be mated to the 7G-MCT SpeedShift automatic transmission currently used in a selection of other AMG models.
Clearly testing here in sedan guise, further down the road, the C63 AMG will be available in a record number of variants. As a matter of fact, by the end of 2016, it will also be available as a coupe, estate and for the very first time, as a cabriolet to directly rival the BMW M4 Convertible!