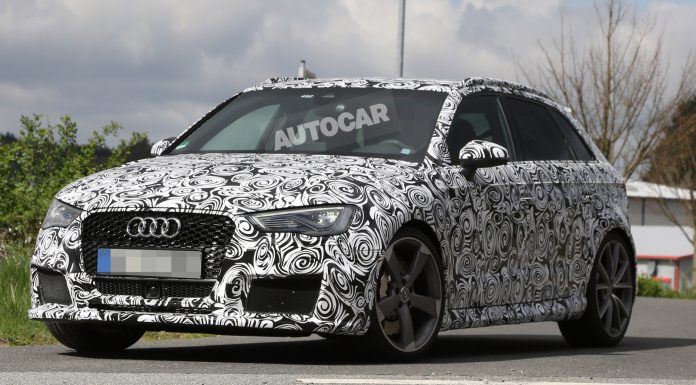 The next-generation Audi RS3 has been spotted under heavy camouflage again ahead of its expected debut at the Paris Motor Show 2014 later this year.
Under the hood, the new RS3 will feature a potent 2.5-liter five-cylinder turbocharged engine delivering a total of 367 hp. This powerful forced induction engine will then drive all four wheels through the quattro all-wheel drive system via Audi's latest S tronic transmission. By comparison, the previous-generation Audi RS3 features a 2.5-liter turbocharged five-cylinder delivering 335 hp helping it to hit 100 km/h in a mere 4.6 seconds.
Alongside the new Audi RS3, it is reported that it could be available with a dynamic package. This dynamic package will likely add some handling improvements as well as some visual tweaks.
From a visual standpoint, the new Audi RS3 will feature all the added aggressiveness which all of Audi's RS models feature. At the front, sharper headlights will be featured alongside a new front bumper. Wider and large wheels are also visible on the prototype pictured above as are flared wheel arches. New suspension lowering the ride height of the car as well as a roof spoiler will also be present.
With the new RS3 pinned to deliver just over 360 hp, it should make for the perfect A 45 AMG rival.
[Via Autocar]