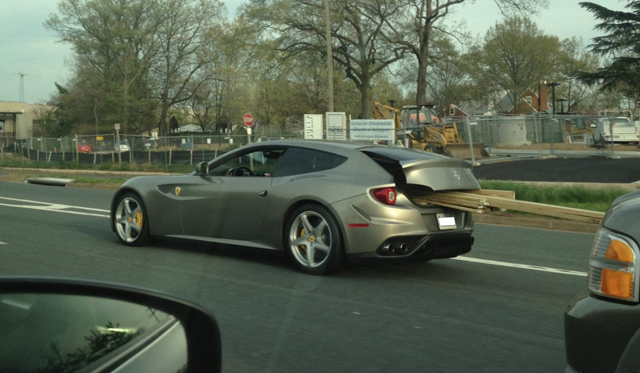 The Ferrari FF has always been the rather ugly duckling of the Ferrari family. With a sky high price, the FF only appeals to a very select area of the market where comfort, speed and size are all priorities.
But just how practical is the Ferrari FF with its shooting brake body style? Well, a silver FF was recently spotted driving in Arlington, Virginia packing quite a lot of…wood.
As the image above shows, the driver of this FF wasn't scared of putting a host of timber into the trunk presumably for some sort of DIY project. Normally, you'd need a large sedan or truck to carry items like this but it seems the FF does the job just perfectly.
However, if the driver even tickled the accelerator pedal unleashing the screaming 6.3-liter V12 delivering 651 horses, a real mess would have been left behind…!
[Via Auto Evolution]