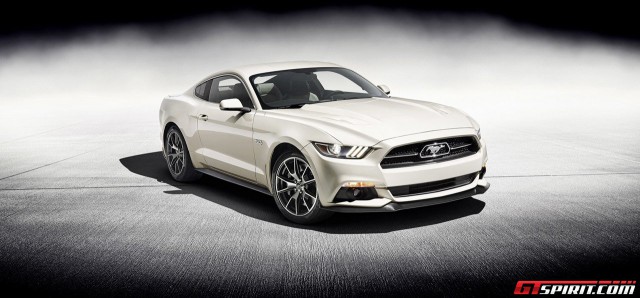 In the not too distant future, the 2015 Ford Mustang will begin hitting dealerships across the United States. Before that happens however, one dealer has released the official options list for the latest American muscle car.
As you would expect, the new Mustang can be tweaked to the owner's tastes down to the very finest of details. For example, the base model Mustang GT with its 5.0-liter V8 engine is available with Recaro seats, all weather floor mats, spoiler delete, engine block heater, 'Enhanced Security Package', with an automatic transmission, 3.55 limited slip differential, 3.73 torsen differential, daytime running lights, Smokers Package, 18-inch aluminium wheels, spare wheel and tire, the GT Performance Package and Reverse Park Assist.
In terms of paint choices, 10 different colours are available. For higher-spec Mustang GTs, more options become available including the 50th Anniversary Package which as the name suggests, celebrates the 50th anniversary of the Mustang. This isn't to be confused with the dedicated 50 Year Limited Edition and instead, it will incorporate 19-inch wheels as well as 50th anniversary floor mats and seat/door trim.
For more in-depth options, be sure to follow the link below!
Recently, Ford further celebrated the 50th anniversary of the Mustang by bringing a bright yellow GT Convertible to the top of the Empire State Building.
[Via Mustang6g]