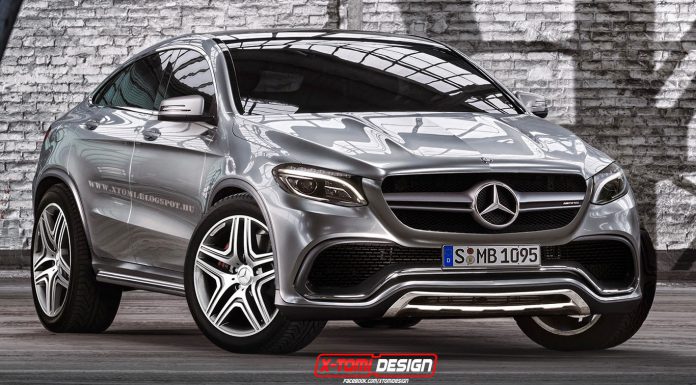 At the Beijing Motor Show 2014, Mercedes-Benz revealed the brand new Concept Coupe SUV. Designed to preview the upcoming Mercedes-Benz MLC, the Concept Coupe certainly looks the part. Now, X-Tomi Design has decided to 'productionise' the concept and envisage how it could look when unveiled as the MLC.
The car pictured here can be distinguished from the concept thanks to the more production oriented wheels as well as the blacked out front grille and air intakes and the fitment of a new front splitter. Considering how minimal the changes were from the S-Class Coupe Concept to the production variant, we're hopeful it will be the same story for the MLC!
As for the Concept Coupe SUV, an interesting and unique feature are the directional indicators which operate via a moving digital light band lighting elements sequentially from inside to outside, indicating the change in direction in two ways.
At the rear, there is some obvious carry-over from the recently released S-Class Coupe. It includes the slim band of rear lights and the rear bumper mounted registration plate holder. The rear also gets an underguard to protect the tailpipes of the dual-flow exhaust system.
Furthermore, the Concept Coupé SUV's recessed door handles add a sleek look to the exterior body panels. Frameless side windows blend into the vehicle flanks and together with the "ALU-BEAM" paint finish, further accentuate the coupé shape.
[Via X-Tomi Design]