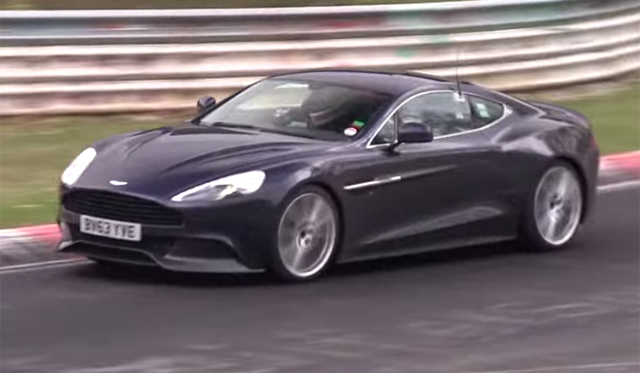 An interesting Aston Martin Vanquish prototype was recently spied undergoing testing at the incredible Nurburgring. Thanks to the host of testing equipment present on this particular Vanquish, it is obvious that the British marque is testing some new equipment.
Some reports suggest that this could actually be a more potent variant of the Vanquish possibly dubbed the Aston Martin Vanquish S. It certainly seems quite possible that the British marque could be preparing an S version of the Vanquish considering that both the Rapide and V12 Vantage are available in S specification featuring some subtle visual changes as well as performance gains.
[youtube]https://www.youtube.com/watch?v=qmtS3whMdIE#t=60[/youtube]
As it stands, the current Vanquish features Aston Martin's famous 6.0-liter V12 engine delivering 565 hp at 6,750 rpm and 457 lb-ft of torque at 5,750 rpm. While these figures are identical to those delivered by the V12 Vantage S, that car is significantly smaller and lighter than the current Vanquish and is consequently, the fastest Aston Martin ever besides the exclusive One-77.
It certainly seems quite conceivable that Aston Martin would offer a Vanquish S variant tuned to deliver upwards of 600 hp. Such a car could also prove quite important in the history of Aston Martin considering the firm will be utilising forced induction AMG engines in the near future.