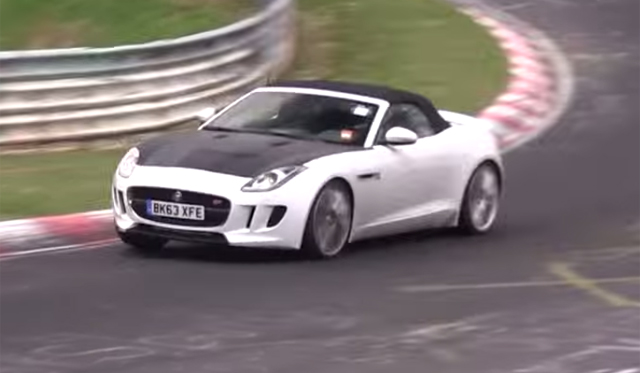 A Jaguar F-Type prototype believed to be testing out Jaguar's brand new four-cylinder has been filmed testing on the Nurburgring for the very first time.
[youtube]https://www.youtube.com/watch?v=mXgl_PTFuck#t=18[/youtube]
As it stands, the F-Type range already consists of six variants ranging from the regular V6 convertible through to the F-Type Coupe R. Despite the large array of F-Type models already available to customers, a four-cylinder variant will be offered in the near feature.
GTspirit Road Test of Jaguar F-Type V6 S Coupe

While the following prototype on the famous circuit looks like a regular Jaguar F-Type V6 S, under the blacked out hood is four-cylinder engine. This powertrain is expected to displace around 2.0-liters and receive an extra boost (no pun intended) from a turbocharger. All up, early reports speculate that this powertrain could pump out 240 hp and an impressive 251 lb-ft of torque.
By comparison, the entry level V6 F-Type available both in convertible and coupe specification features a supercharged 3.0-liter V6 delivering 340 hp and 331 lb-ft of torque.
Apart from the preliminary specifications mentioned above, very little is known about the four-cylinder powered Jaguar F-Type. One thing is clear and that is that it will inevitably be the cheapest car in the F-Type range by quite some way and will appeal to those looking for something a bit more flashy than the Nissan 370Z and faster than the Toyota 86 and Subaru BRZ.