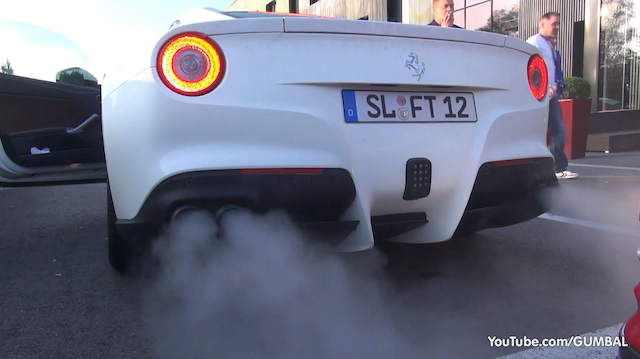 The Ferrari F12 Berlinetta is one of the capable GT cars on sale today. The car has the ability to comfortably cruise across continents in luxury but at the rotation of the Manettino switch can become a track-day beast. Here we have a clip of an F12 revving hard after going through the cold start procedure which helps warm the car to an optimum temperature, but also looks very cool!
[youtube]http://youtu.be/U3lbLJZ611o[/youtube]
The F12′s V12 produces 730 hp at 8500 rpm and 509 lb·ft of torque at 6000 rpm, making it the most powerful road-legal Ferrari to date, only surpassed by the new LaFerrari hypercar. This results in the F12 to accelerate from 0 to 100 km/h in an officially reported 3.1 seconds and will not stop accelerating hard until it hits a staggering 340km/h.