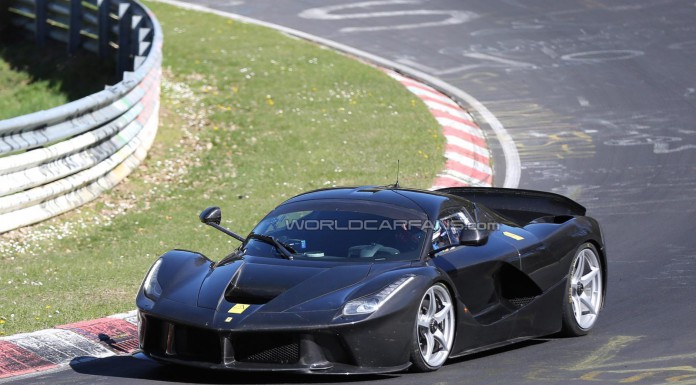 Just a couple of days ago, confirmation came that Ferrari was working on a track-only variant of the LaFerrari hybrid hypercar dubbed the LaFerrari XX. Now spy shots have emerged from the Nurburgring reportedly showing an early LaFerrari XX prototype.
With the exception of some light masking and testing equipment, this LaFerrari looks essentially identical to the road-going variant of which customer deliveries recently began. However, it is very likely that if this is indeed a LaFerrari XX prototype, that it is lighter than the regular car. When the LaFerrari XX is revealed next year, it will feature a host of dramatic aerodynamic changes to make it faster than the standard car.
Interestingly, unlike the Ferrari FXX which was significantly more powerful than the road-going Enzo, the LaFerrari XX is likely to produce around the 963 hp mark delivered by the 'regular' road-legal LaFerrari.
While discussing this, the head of Ferrari's Sporting Activity Department Antonello Coletta said, "It is very hard to make a car more fast than a LaFerrari but this is the challenge. It will be more or less the same [power] but it will be completely different the handling, because it's normal that the handling is different for the circuit and the road.
"The power is a lot; enough! It is very hard to improve the power. The difference will be the slick tyres, the aerodynamics, the electronics, the suspension, the shock absorbers," said Coletta.
Because this prototype looks essentially identical to the regular LaFerrari, it could simply be a prototype for that as well.
[Via World Car Fans]