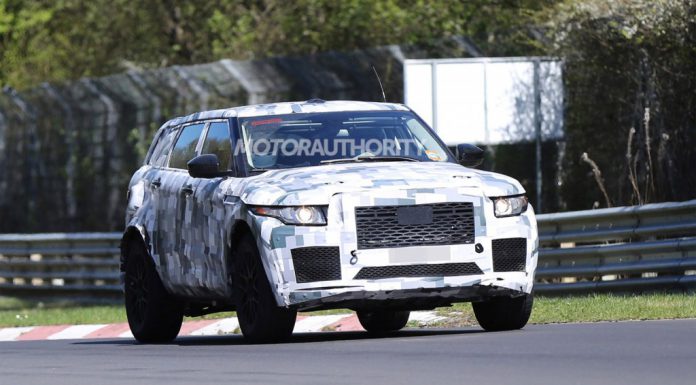 The upcoming Jaguar SUV has been spied testing yet again albeit this time at the Nurburgring and once again disguised as a Range Rover Evoque.
Last month, a similar Jaguar SUV was spied testing. Despite on first appearances looking like a camouflaged Range Rover Evoque, keen-eyed observers who ran tests on the number plates discovered that they were in fact registered by Jaguar Land Rover as a Jaguar complete with a 2.0-liter petrol engine.
From a visual standpoint, the Jaguar SUV will feature quite a few minor visual changes to make it more suitable for the road when compared to the C-X17 Sports Crossover Concept revealed last year. This will include slightly modified headlights and taillights as well as a slightly redesigned rear hatch.
One of the big mysteries about the upcoming Jaguar SUV is just what it will be called. Recently, Jaguar trademarked by XQ and Q-Type so it is very possible that one of those two could be utilised for the brand's new first SUV.
While the design of the SUV is promising to be a highlight, the car will notably be the second Jaguar model to utilise the firm's new aluminium monocoque set to be first utilised on the upcoming entry-level Jaguar XE sedan. Dubbed the IQ[AI] platform translating into "intelligent aluminium architecture", the monocoque is extremely scalable meaning it can be easily modified for various different Jaguar models.
[Via Motor Authority]