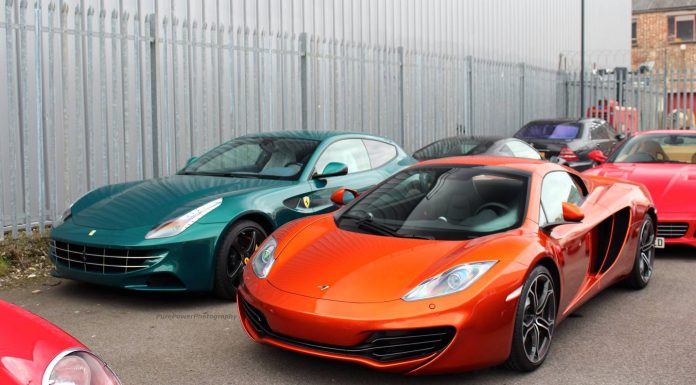 Todays Photo Of The Day features two very different supercars, the Ferrari FF and McLaren 12C, both finished in colours that certainly turn heads!
The McLaren 12C hides a 3.8 liter twin turbo V8 engine delivering 616 hp at 7,000 rpm and 443 lb-ft of torque between 3,000 and 7,000 rpm under the bonnet. Those performance figures offer a sprint from zero to 100 km/h in 3.3 seconds (3.1 seconds with corsa tires). As a result the car certainly earns supercar status. We have seen cars finished in the same orange before, it certainly is one of the most flattering colours for the British car.
The Ferrari FF could not be more different. The car is powered from an atmospheric V12 the sits in front of the driver and turns all-four-wheels. The FF has a top speed of 335 km/h and it accelerates from zero to 100 km/h in jus 3.7 seconds. Ferrari states that the FF is the world's fastest four-seat automobile, an impressive accolade indeed. The car is often spotted in subtle shades of grey and black and of course Rosso red! Here we have a car that has been finished in a dark green, we love it!
Photographer: Pure Power Photography