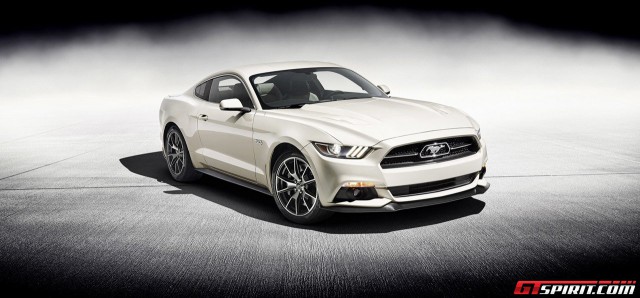 Exactly 50 years ago, the Ford Mustang was first revealed. To celebrate this momentous occasion, the 2015 Ford Mustang 50 Year Limited Edition has officially been unveiled. The muscle car's debut follows on from a recent spy shot taken of the car.
Just 1,964 units of the Ford Mustang 50 Year Limited Edition will be made to commemorate the year, 1964, the car was unveiled to the world. Based on the Mustang GT, this special edition Mustang features a host of visual changes differentiating it from the regular car.
The Mustang 50 Year Limited Edition is available in Kona Blue or as pictured here, Wimbledon White. Importantly, the 50 Year Limited Edition comes standard with a host of features normally optional on the Mustang GT such as the performance pack. As a matter of fact, all customers can choose between is the exterior colour and whether to use a six-speed manual transmission or an automatic 'box.
Performance details haven't been revealed just yet, but the Mustang 50 Year Limited Edition is fitted with the same 5.0-liter naturally aspirated V8 engine as standard Mustang GT delivering over 420 hp and 390 lb-ft of torque.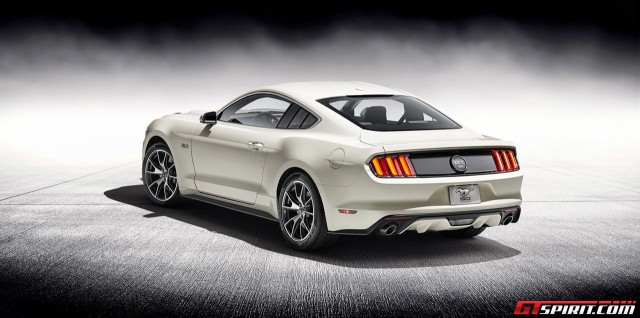 Inside the cabin, the car features a uniquely finished axel spin finish across the aluminium trim panel spanning across the instrument panel. It also features individually etched badges as well as a cashmere-stitched, leather-wrapped steering wheel with similar stitching also being featured on the shifter boot, instrument panel, centre armrest, door inserts and seats.
When discussing the car, Ford vice president of design Moray Callum said, "The new Mustang blends a muscular, contemporary shape with design cues that define it as quintessentially Mustang. The 50 Year Limited Edition adds details that set it apart from other Mustangs, while hearkening back to the 1965 original."