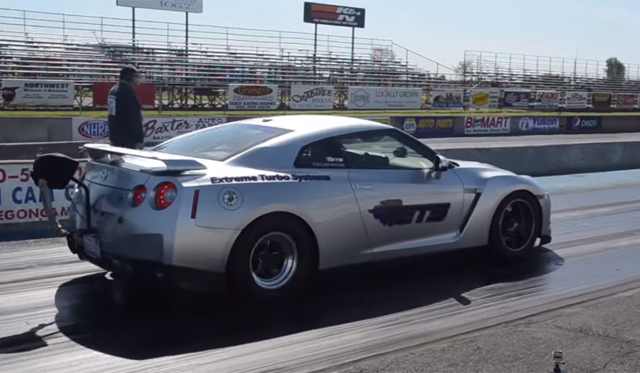 For quite some time, this absolutely brutal Nissan GT-R Alpha Omega by AMS Performance has been the world's fastest street-legal GT-R across the quarter mile. However, now there is a new kid on block and it has just taken the mantle as the world's quickest road-legal GT-R.
Transformed by the crew at Extreme Turbo Systems (ETS), this brutal GT-R recently managed to rocket down the quarter mile in a mere 7.81 seconds at a top speed of 294.5 km/h. By comparison, the best time from the GT-R Omega thus far has been 7.984 seconds at 299.3 km/h.
[youtube]http://www.youtube.com/watch?v=NeFTaWtkgqQ#t=181[/youtube]
No specific power outputs for this GT-R have been revealed but it has to be pushing out upwards of 1500 hp.
While this run is indeed impressive, we expect the GT-R Alpha 12 Omega to beat it very soon. As a matter of fact, the Omega GT-R was the first GT-R to clock a sub 9 second quarter mile, the first 8 second sprint and the first in the 7 second range. Could it also be the first into 6 second range?