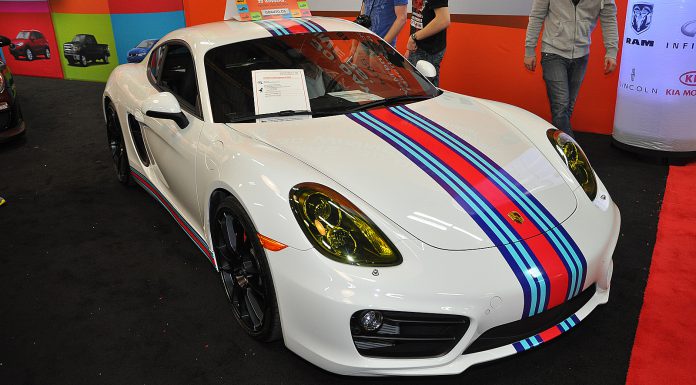 The 2014 Edmonton Motor Show wrapped up over the weekend, and GTspirit was there to see what the buzz was all about. The show, taking place in Edmonton, Alberta, Canada, showcased all the major automotive brands as well as plenty of aftermarket vendors with some truly stunning supercars on display.
Local Edmonton automotive dealerhsip chain, Go Auto, brought along an array of cars ranging from modified pickups to outlandish tuners, but it was a black Porsche 911 GT3 that caught our eye. Though completely stock, the GT3, done up in black, gave off a sinister vibe as it sat next to a stunning Martini Racing liveried Porsche Cayman S.
The Cayman was given a special white, red and blue wrap along with yellow tinted headlights and medium black tinted tail lights, giving it a really cool racing look.
Additionally, Carco Auto brought along two special supercars to promote an upcoming charity event called Racing For a Cure. The event takes place June 21st, 2014 and raises money for children's cancer charities. Bidders will get a chance to purchase ride-alongs in plenty of supercars around Edmonton's Castrol Raceway.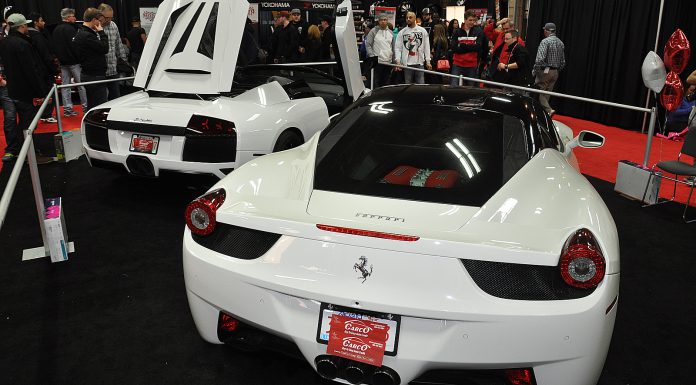 Carco Auto brought along a pearl white wrapped Lamborghini Murcielago LP640 and Ferrari 458 Italia to show off what bidders could win a few laps around the track in.
We also saw a very eye-catching display put together by detailing company, Auto Obsessed. The team brought along a gulf-liveried Ford GT wearing special Auto Obsessed badges, of course detailed using the companies original products.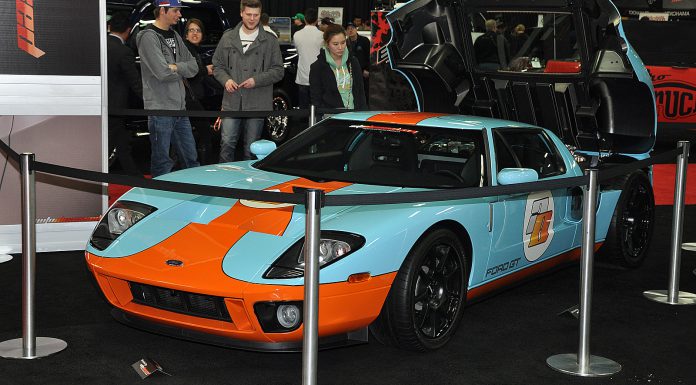 They also brought along a special Porsche 911 50th Anniversary Edition in brilliant black. The 911 50th Anniversary Edition is equipped with a special power kit, which increases engine performance to 430 hp and includes the Sport Chrono Package. The 911 50th Anniversary Edition sprints from zero to 100 km/h in 4.2 seconds.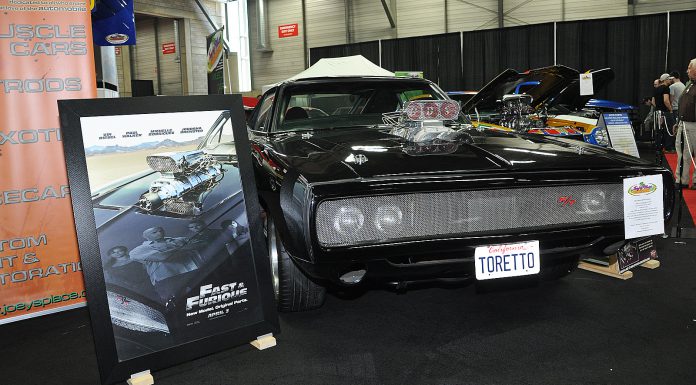 Edmonton's Castrol Raceway brought a selection of race cars ranging from drag racers to GT Cup cars, including a Porsche GT3 Supercup Racecar. Also displayed at the show was the famous 1969 Dodge Charger movie car from 2009's Fast & Furious.