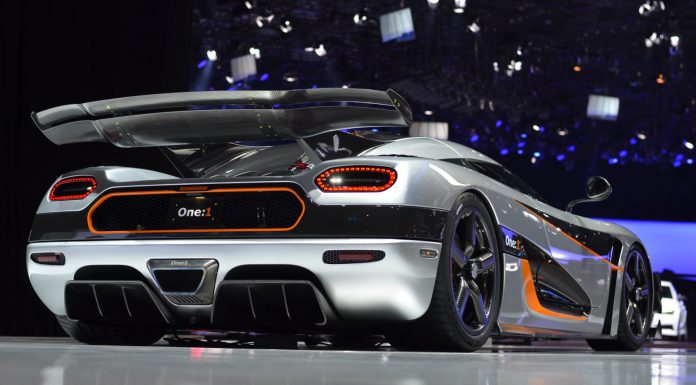 While we eagerly await to see the first real high-speed driving footage of the incredible Koenigsegg One:1, the following clip has been posted online showcasing this incredible 'megacar' starting up as well as revving.
[youtube]https://www.youtube.com/watch?v=5Q2NZY2TZQU#t=23[/youtube]
For those familiar with Koenigseggs, you'll immediately recognise the burble produced by the One:1. At the beating heart of the One:1 is of course its amazing and truly mega twin-turbocharged 5.0-liter V8 engine delivering one megawatt of power. In lamens terms, that translates to 1360 hp!
While the engine is based on the powertrain from the Agera R, Koenigsegg has upgraded a plethora of components in the engine ranging from the camshafts to the fuel injectors. Along with the 1360 hp output, the Koenigsegg One:1 delivers 1,371 Nm of torque at 6,000 rpm. Total weight is just 1,360 kg which is based on the complete car ready to drive with 50% fuel, 100% fluids and without the driver taken into account. This is a total weight saving of just over 70 kg on the Agera R. As a result, the Koenigsegg One:1 is said to achieve a perfect 1 horsepower to 1 kilogram power to weight ratio.
Along with the Koenigsegg One:1 having the highest top speed of any Koenigsegg ever produced, it is also the most track focused Koenigsegg ever produced.