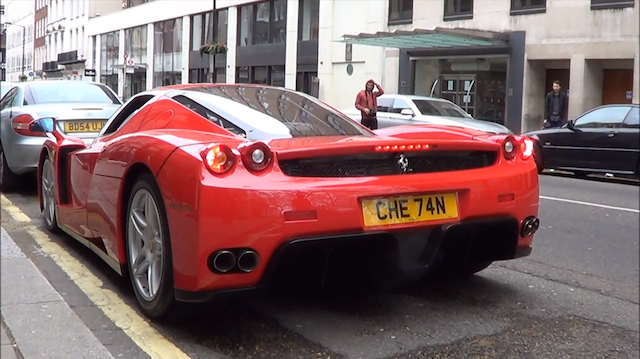 The Ferrari Enzo is a rare and beautiful beast. Seeing an example casually parked on the street is certainly something special even is a city such as London where supercars a common sight. Here we have a Rosso Corse example fitted with a Capristo Exhaust system.
[youtube]http://youtu.be/O8lokw1tZs4[/youtube]
Powering the Ferrari Enzo is a brutal 6.0-liter V12 engine. This potent powertrain revs all the way to 8,000 rpm and delivers a potent 651 hp at 7,800 rpm and 485 lb-ft of torque at 5,500 rpm. The Enzo can accelerate to 100 km/h in a very brisk 3.2 seconds and the top speed has been recorded to be around 354 km/h.
As you you can see from the video above this Enzo sounds incredible even when idling or ambling through the beautiful streets of Mayfair. Is this the best sounding Enzo yet?