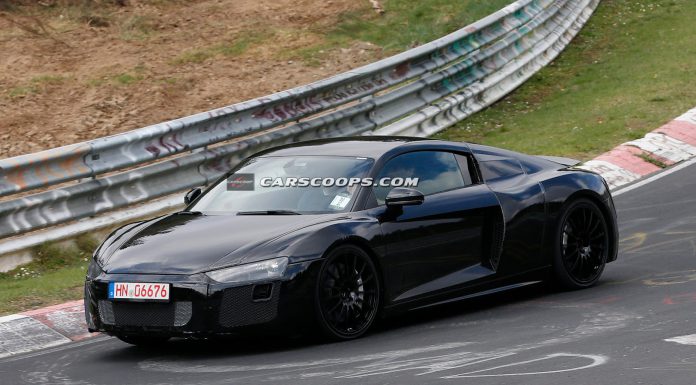 The upcoming, next-generation 2016 Audi R8 supercar has been spied testing at the Nurburgring once again. However this time, the prototype wasn't wearing its typical black and white camouflage and instead features a gloss black finish as well as non-production spec bumpers, headlights and slightly camouflaged taillights.
While it is inevitably hard to know which, if any, of the panels this prototype are production-spec, there's no denying that the 2016 Audi R8 will be dramatically different from the original R8. By comparison, the next R8 features much sharper lines not just across the body, but also present in the headlights and taillights. Additionally, the trademark Audi R8 side blade is expected to be ditched but overall, the size and proportions of the new R8 will be similar to the current car.
As long expected, the 2016 Audi R8 will share many of its technologies with the brand new Lamborghini Huracan. For example, it will be built around the same carbon fiber and aluminium chassis albeit with a longer wheelbase and wider tracks and will utilise the Huracan's upgraded 5.2-liter V10 in range-topping specification. The new 2016 Audi R8 will also utilise a seven-speed dual-clutch automatic transmission like the Huracan and be available as an all-wheel drive model only.
Additionally, it has been previously confirmed that the next-generation will retain the 4.2-liter V8 currently available in the entry-level R8. Interestingly however, a forced induction engine is likely to be introduced at some stage during its production run with Ulrich Hackenberg recently stating that it "will need a turbocharged engine."
[Via Carscoops]