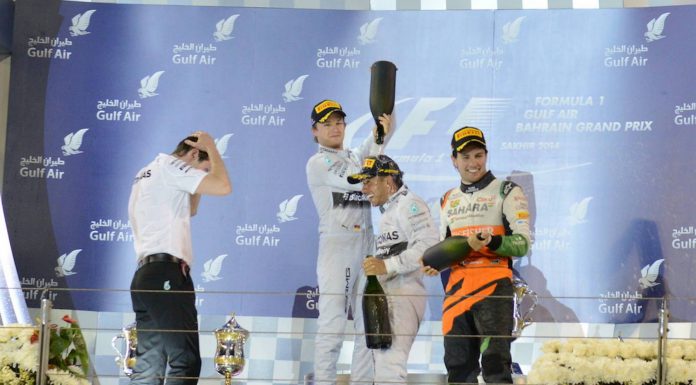 Lewis Hamilton and teammate Nico Rosberg have done it again! Back-to-back wins for Mercedes-Petrona at the Gulf Air Bahrain Grand Prix from start to finish. Rosberg started the race in pole position after qualifying fastest yesterday with Hamilton on the same front row, allowing them to lock the first two podium finishes to themselves. Sergio Perez took the third place in his Force India machine 24 seconds behind winner Hamilton.
The race was a repeat of the previous round, the Malaysian GP where the duel gave Mercedes a 1-2 finish. Generally the season has been dominated by Mercedes, not to mention Perez's car is also powered by Mercedes. However, today's race was not a friendly Hamilton-Rosberg affair as the two fought each other during the final 10 laps. Rosberg running on soft tires had the advantage but the resilient Hamilton played his defence properly to take the win, making this his 24th Grand Prix win.
Action did not stop with those two, Perez had to fight for his third position from Red Bull's Ricciardo who had fought his way up, recovering from a penalty that was awarded to him in Malaysia. Ricciardo managed to finish in fourth after passing Perez's teammate Nico Hulkenberg who was suffering from energy harvesting issues in his Mercedes-powered car.
World champion Sebastian Vettel finished in sixth, he was not able to make it to Q3 yesterday after been knocked out by Kimi, and outshined by his teammate Ricciardo. Talking of Ferrari, their best placed car finished in ninth with Fernando Alonso behind the wheel, he was followed by teammate Kimi Raikkonen who finished in tenth.
It was a tough day for McLaren too as their only car in the race ended up finishing in 16th place, driven by Jenson Button. The Briton was even lucky to be in that place as he had parked his car in the garage before the chequered flag, this was his 250th Grand Prix.
Pastor Maldonado's streak of mishaps continued today after he was awarded with a five-place grid penalty for the next race in China. The Lotus driver caused a crash while coming out of the pit lanes after he hit Esteban Gutierrez sending him into a roll. Other than Gutierrez who was forced to retire, McLaren's Magnussen also retired after suffering a gearbox issue; Sutil, Marcus Ericsson and Jean-Eric Vergn also retired.
The next round will be in China on 18th April. Rosberg is still ahead in the standings with 61 points followed by Hamilton with 50. Mercedes is ahead in constructors' points with a total of 111, they are followed by Force India with 44, McLaren with 43, Red Bull with 35, Ferrari with 33 and Williams with 30.