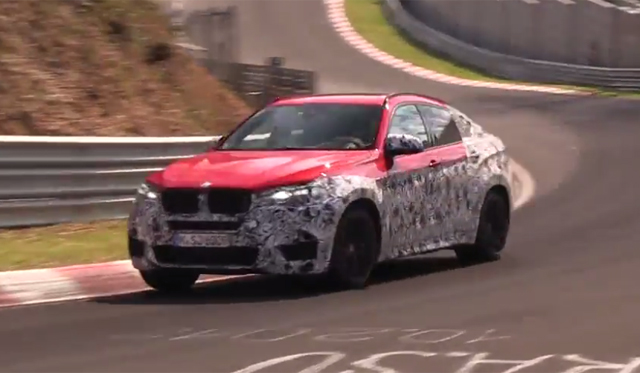 While future owners of the next-generation BMW X6 M will pretty much never drive on the Nurburgring or any track for that matter and are unlikely to even come close to the SUV's limits on the road, the German marque is busy track testing the new X6 M at 'Green Hell'.
In terms of the new BMW X6 M, previous spyshots have shown that the styling changes will be very minor. Immediately it is apparent that the 2015 BMW X6 M will receive a slightly modified BMW front kidney grille as well as a redesigned front bumper and slightly tweaked headlights. Additionally, a new rear fascia will be used as well as new taillights. As for the 2015 BMW X5 M, it is also expected to debut some new styling elements but will still remain recognisable as the X5 M.
[youtube]https://www.youtube.com/watch?v=kBzHEF0SjlQ[/youtube]
Both the new X6 M and X5 M will use the same 4.4-liter twin-turbo V8 engine of the outgoing cars. In current tune, that engine pumps out 547 hp at 6,000 rpm and 680 Nm of torque at 500 lb-ft of torque. However, we can expect to see some slight power gains for the latest models.
However, before BMW can reveal the next-generation X6 M, the standard X6 will also have to be revealed and that's set to come a few months earlier. In fact, a public debut at the Moscow Motor Show in August is being speculated. The X6 M will then be revealed in the last quarter of the year.