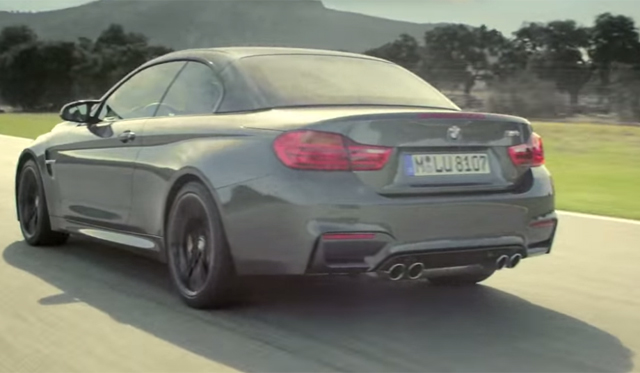 Just a few days after BMW officially revealed the long-awaited 2015 BMW M4 Convertible, the first official video for the drop-top sports car has been released!
[youtube]https://www.youtube.com/watch?v=cIyHm6hSMrc[/youtube]
Filmed at the epic Ascari Race Resort which we've visited and driven on in multiple occasions in the past, the handling characteristics of the new M4 Convertible are highlighted clearly. While the new M4 Convertible inevitably drives a lot better than the previous M3 Cabriolet, its extra weight of some 250 kg gives a performance, handling and driver feel advantage to the M4 Coupe.
Compared to its predecessor, the new BMW M4 Convertible is 56 mm longer, 65 mm wider and 4 mm lower. These new proportions really add an entirely new element of aggressiveness and purpose to the ultra-fast convertible sports car. More important than the actual measurements are the fact that its wheelbase has been increased by 52 mm.
Under the hood, the 2015 BMW M4 Convertible is powered by the same 3.0-liter inline six-cylinder twin-turbocharged engine delivering a brutal 425 hp and 406 lb-ft of torque. However, due to the addition of the extra reinforcement to maintain the car's rigidity when the roof is folded away, the M4 Convertible tips the scales at a hefty 1,750 kg. Compared to the 1,476 kg weight of the M4 Coupe, the drop-top is more than 250 kg heavier. However, compared to the Audi RS5 Cabriolet which weighs an insane 1,920kg, the new 2015 BMW M4 Convertible is a relative lightweight!