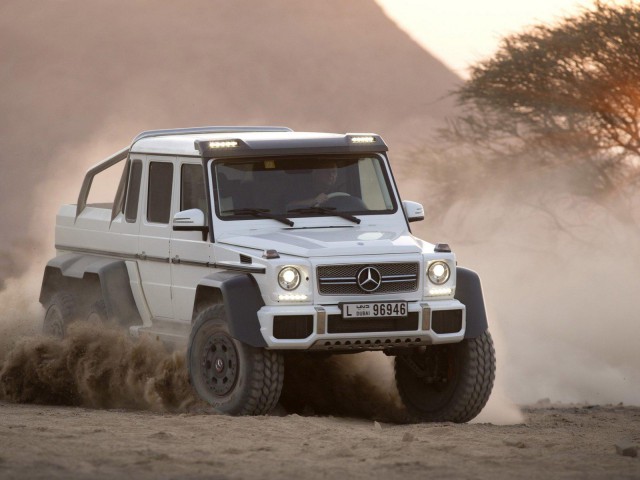 Thanks to its unique design, extreme off-road capabilities and absurdly high price tag, the Mercedes-Benz G 63 AMG 6×6 has understandably attracted a lot of attention. While production of the car is limited, it is believed that at least one rare example will feature in the next Jurassic Park film, set for release on 05 June 2015.
The fourth film of the franchise will be named Jurassic World. It promises to be the most exciting and thrilling yet. With the G 63 AMG 6×6 set to star, it is looking even more promising!
The G63 AMG 6×6 wouldn't be the first extreme off-roader to star in the pre-historic franchise. The original film featured 1991-1992 Ford Explorer XLTs which travelled along using a self navigation system. Mercedes-Benz ML-Class cars were also heavily modified for use in the second of the films sequel's.
The Mercedes-Benz G 63 AMG 6×6 idea originates from the G 320 CDI, custom developed for the Australian army recently. It measures an incredible 5,867 mm long, 2,111 mm wide and 2,209 mm tall. What these figures mean is that the Mercedes-Benz G 63 AMG 6×6 is an impressive 43.5 inches longer than the standard car, and when you see the car in action, it's little wonder why the extra two wheels add so much length.
Whereas the military version only features a 3.0-liter diesel engine, the AMG (which is available to any elite joe public) is fitted with the G 63 AMG's 5.5-liter bi-turbo V8 engine pumping out 536 hp and 560 lb-ft of torque. This engine is then mated to a seven-speed 7G-tronic transmission driving all six wheels.