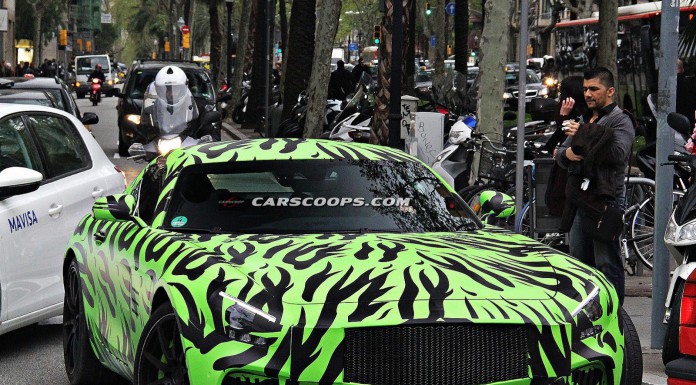 According to Mercedes-Benz itself, the upcoming 2016 Mercedes-Benz AMG GT is the most beautiful car it has ever designed. As a result, we're jumping out of our skin to see the car officially revealed sometime this year. While we wait with bated breath, new spy shots have emerged of a prototype spied testing with a unique fluro green and black wrap!
While the wrap covers all of the vital body panels, we can see completely redesigned LED headlights and overall, the car appears to be smaller than the outgoing SLS AMG.
We recently confirmed that contrary to some recent reports, the AMG GT will not feature a V6 engine. Instead, it will be powered by a twin-turbocharged 4.0-liter V8 engine expected to be available in a host of different tunes including a Black Series version. One of the primary aims of the AMG GT is for it to act as Mercedes-Benz's rival to the Porsche 911 range. It will be very interesting to see how this turns out!
Importantly, Mercedes-Benz will also focus heavily on reducing the weight of the AMG GT compared to the SLS AMG and thanks to a smaller body and a new aluminium spaceframe, it should weigh at least 300 pounds less.
The 2016 Mercedes-Benz AMG GT is due for its public debut during the second half of this year, likely at the Paris Motor Show 2014, and first customer deliveries can be expected next year.
[Via Carscoops]