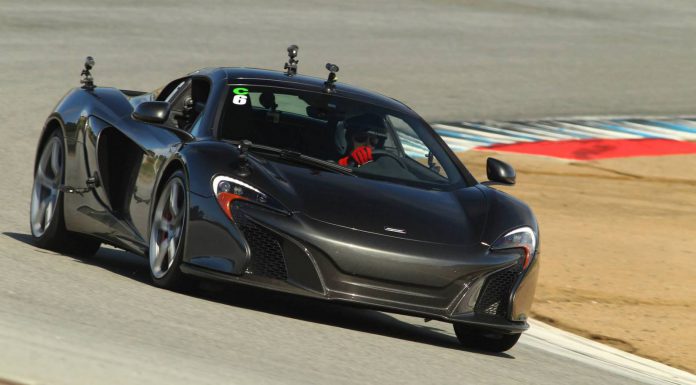 The McLaren 650S is the latest addition to the British Marques line-up. The car is not to be mistaken for a replacement for the 12C, but is a more focused and improved package over the 12C.
The 650S has now been seen in United States being driven in fury at the infamous Mazda Raceway Laguna Seca circuit in California. The dark grey Spider looked great with its P1 inspired face.
Under the hood, the McLaren 650S features a modified variant of the 3.8-liter twin-turbocharged V8 engine from the 12C. It now delivers 25 hp and 80 Nm of torque more resulting in 650 PS and 678 Nm of torque. This improves acceleration, responsiveness and overall top speed. 0-100 km/h (62 mph) acceleration now takes only 3.0 seconds and 0-200 km/h (125 mph) only 8.4 seconds. This is faster than many 'stripped out' track-focused road cars, yet despite this the McLaren 650S also offers better fuel economy and is more usable every day. The 650S will go on to hit a maximum of 333km/h (207mph) and when the time comes will brake from 300-0 km/h in just 271 m (889 ft) thanks to its carbon ceramic brakes.