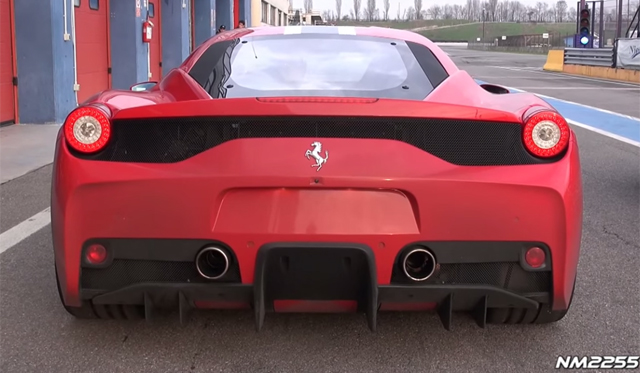 When compared to the standard Ferrari 458 Italia, the 458 Speciale is essentially upgraded on every level. It features updated styling, an improved transmission, modified exhaust system, uprated engine, better brakes and better electronic management system.
[youtube]https://www.youtube.com/watch?v=sZNm2AyQV2w#t=164[/youtube]
Recently, a couple of stunning 458 Speciales hit the Franciacorta International Circuit and thanks to potency of the pair, the resulting video and soundtrack has to be seen and heard to be believed.
In case you needed reminding, the Ferrari 458 Speciale features a modified variant of the regular 458 Italia's 4.5-liter V8 engine. In Speciale guise, it delivers a total of 597 hp and 398 lb-ft of torque thus making it the most powerful naturally aspirated V8 engine ever produced by Ferrari. What's more, Ferrari claims that thanks to it delivering 133hp per liter, it has the highest ever per liter output of a road-going naturally aspirated engine. Maximum power is achieved at 9000 rpm while max torque is reached at 6000 rpm.
The Ferrari 458 Speciale tips the scales at just 1290 kg and Ferrari consequently claims a sprint time to 100 km/h in just 3 seconds and the car can then hit 200 km/h in just 9.1 seconds. What's more, Ferrari claims that the Ferrari 458 Speciale can sprint around the Fiorano test track in just 1:23.5 seconds thus making it 1.5 seconds faster than the standard car and just .5 seconds slower than the Ferrari F12 Berlinetta.