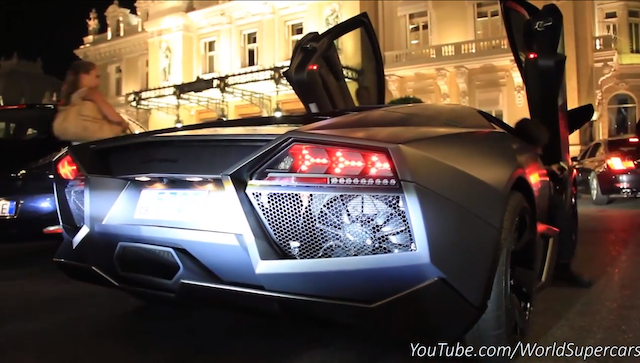 There are only 35 Lamborghini Reventons on the planet all of which look absolutely phenomenal and go like the clappers! They feature the same raw untamed 6.5-liter V12 engine as the sublime Lamborghini Murcielago LP670-4 SV. That engine pumps out a mighty 670hp at 8000rpm and 660Nm of torque at 6000rpm. Consequently, the €1,100,000 Lamborghini Reventon Roadster can rocket from 0-100km/h in just 3.4 seconds and sprint all the way to a 330km/h top speed.
[youtube]http://youtu.be/Vk22NBF-LcQ[/youtube]
The Coupe is quicker still, its top speed is 340km/h, and hits 100km/h in the same 3.4 seconds as the roadster. One of these mighty machines has been spotted in Monaco's Casino Square where it understandably attracted quite a large crowd!