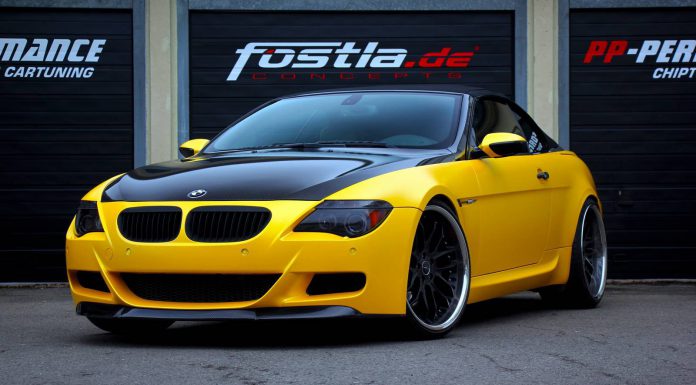 While the rather ugly E63-generation BMW M6 has been out of production for a few years now, tuning firm Fostla.de based in Hanover, Germany have just revealed their latest tuning project based on the BMW E63 M6 Convertible.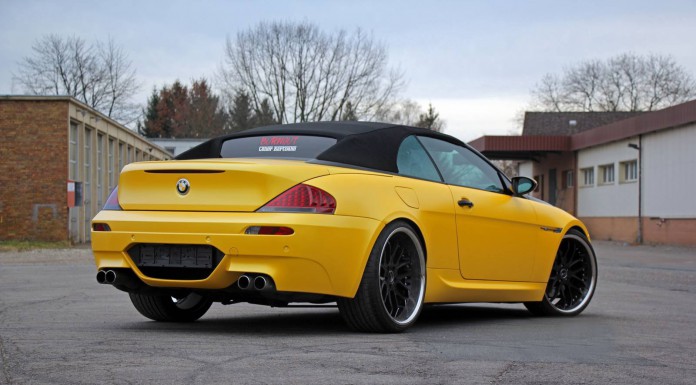 Most notably, this M6 has been finished in a bright shade of matte PWF yellow courtesy of the crew at Bruxsafol. However, the bonnet, front splitter and lower half of the wing mirror caps are finished in bare and beautiful carbon fiber. To further add to this, the BMW M6 by Fostla.de features headlights, taillights and indicators tinted to 5 per cent to help give the car a more aggressive look.
Additionally, Fostla.de worked their magic on the engine. The standard E63 M6 is powered by a massive 5.0-liter V10 engine delivering a perfect 500 hp and mated to either a six-speed manual transmission or a 7-speed single-clutch semi-automatic 'box. However, Fostla.de have managed to lift power up to 537 hp and a maximum torque rating of 545 Nm. As a result of this, the BMW M6 by Fostla.de can comfortably surpass 300 km/h and sprint from 0-100 km/h in a mere 4.3 seconds. The cost of this upgraded engine kit is 2,199 euros.
Finally, the car has been fitted with new race GTR wheels, H&R lowering springs and a racing exhaust system courtesy of Eisenmann.