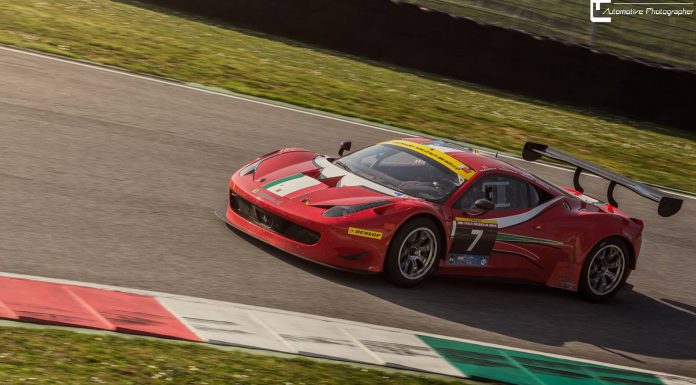 The 2014 season for the 24 Hour Series kicked off in Italy last weekend with the Dunlop 12 Hours of Mugello. The No. 7 AF Corse Ferrari driven by Felipe Barreiros, Ilya Melnikov, and the father and son duo of Aliaksandr Talkanitsa, Junior and Senior took the win home making Ferrari proud by winning right at home. The A6 class which was also the fastest saw stiff competition from two other German cars that made it to the podium finish.
The Stadler Motorsport Porsche 997 GT3 R driven by Adrian Amstutz, Mark Ineichen, and Marcel Matter was praised for better fuel economy; in fact they led for most part of the race before the AF Corse Ferrari 458 GT3 took them out, meanwhile, finishing at third was the No. 1 Hofor Racing Mercedes SLS AMG GT3 whose heavy fuel consumption bottlenecked its performance, not to mention the puncture they also suffered.
The No. 3 Fach Auto Tech Porsche was also fighting for the podium but sadly went into early retirement after a huge oil leak. Finishing fourth in the A6 class was the Scuderia Praha Ferrari F458 which was followed closely by another Mercedes-Benz SLS AMG.
The 997 Class was led by Ruffier Racing team of Gabriel Abergel, Paul Lafargue, and Patrice Lafargue. They were tightly lured to the finish line by the Porsche of GDL Racing who finished second. Third podium finish in this class went to another Porsche of GDL Racing, it was however slower than the fastest car in the SP3 class- the Nova Racing team with their Ginetta G50.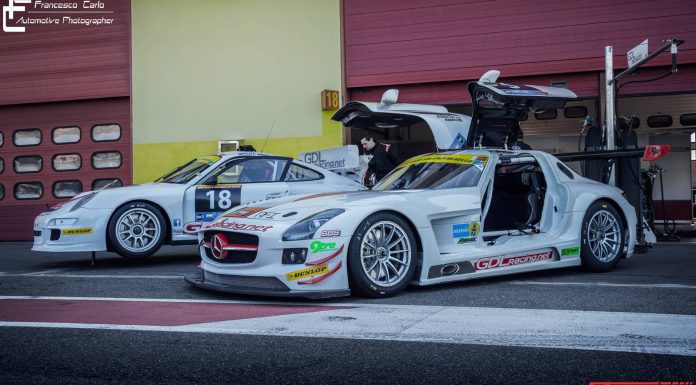 Bonk Motorsports finished second in the SP3 class in their BMW M3 GT4, meanwhile the BMW E46 M3 GTR of RTR Projects cut short the SP3 finishes by finishing first in the A5 class. Other classes include the D1 class which was won by the Volkswagen Golf of KPM Racing, A2 class was won by Besaplast Racing Team Mini Cooper S.
The next race will be in the Netherlands, the 12 Hours of Zandvoort on May 30th. Thereafter the 24 Hours of Barcelona will follow on September 5th, then the 12 Hours of Hungary on October 3rd before starting all over again with the 24 Hours of Dubai on January 8th 2015.
Photos by Francesco Carlo