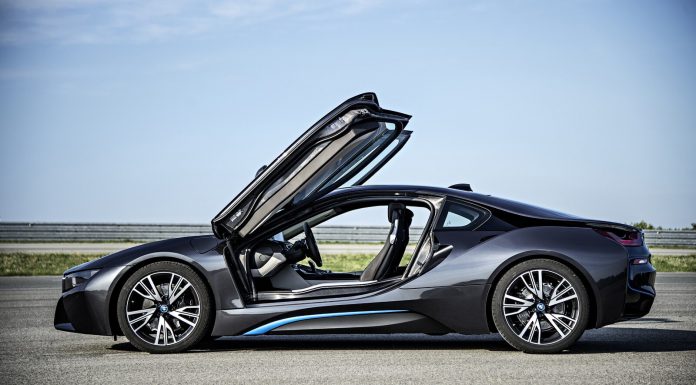 The lead-up to the public release of the BMW i8 sports car has been a very long one. Revealed in concept form years ago, the i8 has slowly developed from its initial outlandish, futuristic styling to a more refined design yet one which still looks like nothing else on the road.
The production-spec BMW i8 was revealed last year and now BMW has confirmed that production is set to kick off in April with first deliveries beginning in June. Unsurprisingly, the first deliveries will be to European customers.
Under the body, the BMW i8 utilises brand new three-cylinder petrol engine with BMW TwinPower Turbo technology. From 1.5 litres, the i8 manages an output of 231 hp and a maximum torque figure of 320 Nm. Power is sent to the rear wheels via a six-speed automatic gearbox. The petrol engine is then supplemented by an electric motor with an output of 131 hp and maximum torque of 250 Nm. The power from this lithium-ion high-voltage battery is channelled through the front wheels via a two-stage automatic transmission.
The combinations mean that the BMW i8 is able to produce 362 hp maximum power and 570 Nm of torque. As a result of these two motors operating in tandem, the BMW i8 can sprint from 0-100 km/h in just 4.4 seconds. The BMW i8 also manages economy figures of 2.5 litres per 100 km or 113 mpg in imperial measurements.