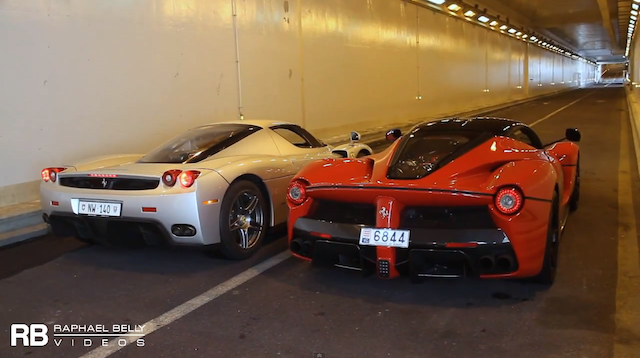 LaFerrari has taken the place of the Ferrari Enzo as the car that represents the pinnacle of technology, power and speed for the Italian marque. It receives a 6.3 liter V12 which is connected to an electric motor similar to the system on the McLaren P1. The Ferrari F150 V12 has an output of 800 hp at 9,000 rpm and 700 Nm at 7,000 rpm while its electric motor has a maximum output of 163 hp and 270 Nm of torque. That delivers a total combined power output of 963 hp, allowing the Enzo's replacement to do 0-100 km/h in less than 3 seconds, 0-300 km/h in 15 seconds and a top speed in excess of 350 km/h.
[youtube]http://youtu.be/0JX7o0aWNcQ[/youtube]
Powering the Ferrari Enzo on the other hand is a brutal 6.0-liter V12 engine. This potent powertrain revs all the way to 8,000 rpm and delivers a potent 651 hp at 7,800 rpm and 485 lb-ft of torque at 5,500 rpm. The Enzo can accelerate to 100 km/h in a very brisk 3.2 seconds and the top speed has been recorded to be around 354 km/h.
Both cars are amongst the most desirable automobiles and both sound great. The question is, which would you prefer?