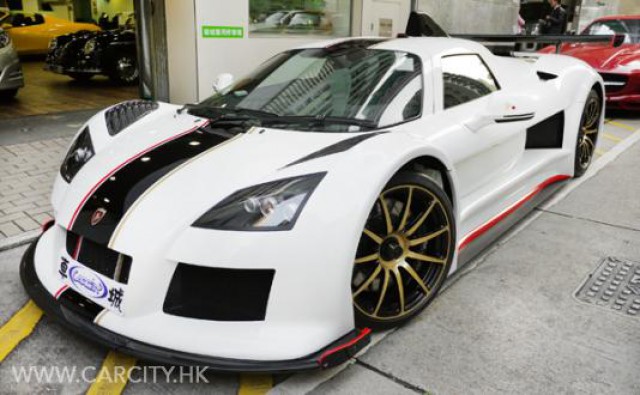 As a predominantly European-based motoring news website, we genuinely do have no idea how supercars trade hands in exotic overseas locations such as Hong Kong. Obviously there is a dealership network which populates the mega-rich with brand new supercars straight from its showroom. What happens then, when these owners feel it is time to trade in for the next biggest thing?
We recently stumbled across Car City, a Hong Kong-based supercar dealership. We've got no idea about the history of the company, yet it currently has an awesome nearly-new supercar inventory!
Based in a small showroom on the outskirts of the City, Car City appears to be packed with the latest supercars. A careful browse of their inventory revealed a particularly interesting white Gumpert Apollo S with black stripes and gold wheels on offer for 4.98 million Hong Kong Dollars (453,501 euros at todays exchange rate).
Elsewhere, we spotted a brand new Pagani Huayra with a red exterior and black interior, a Maserati MC12 and even an ultra-rare Bugatti Veyron Pur Sang! Aside from the ultra-exotic, Car City even offers more mundane BMW M3's, Ferrari models and Aston Martin's.
Well worth a quick browse on their website to see a small selection of the finest Hong Kong-based used cars!