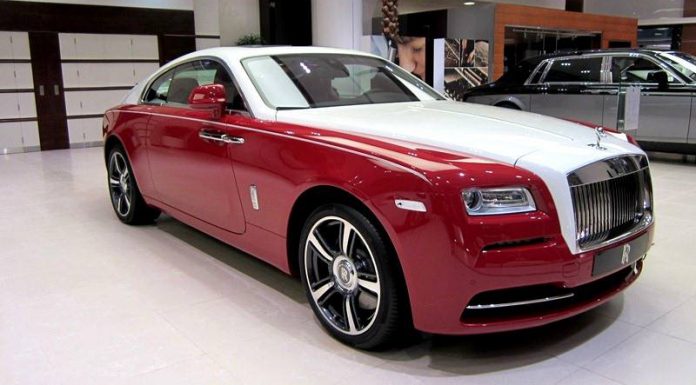 The Rolls-Royce Wraith represents everything associated with the brand but with a twist and hint of sportiness. The Wraith is powered by a 6.6-litre twin-turbo V12, the same that can be found under the bonnet of the Ghost. The engine in the Wraith has been given a healthy boost up to 632 hp, making this the most powerful road car Rolls-Royce has ever made. We found the power to more than adequate for the size of the car when we tested it.
Here we have a Wraith that has been finished in a very attractive configuration. The majority of the car has been specced in Ensign Red, a deep shade that is almost blood red. The bonnet roof and boot lid of the British car has been painted in a contrasting English white. This is one of the best combinations we have seen and the interior follow the same theme with Hotspur Red leather and Seashell highlights.
Despite the mammoth power and endless torque the Wraith has not sacrificed a drop of class or drama. The car looks fantastic and commands attention and presence like no other, party due to the car sheer size and mass. This example has been finished in a very regal deep purple that look fantastic on the raked roofline and sleek body, a very suiting colour on the 2.5 tonne beast.