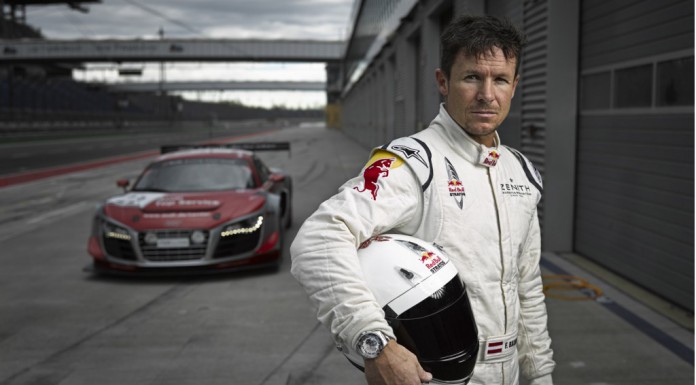 Austrian daredevil and extreme athlete Felix Baumgartner is set to race an Audi R8 LMS at the upcoming Nurburgring 24 Hours in late June. For most of us, we know Baumgartner as the man who skydived from the stratosphere back in 2012. Hitting the circuit competitively will be his next challenge.
Baumgartner will compete in the Nurburgring 24 Hours thanks to the Audi race experience which enables Audi customers the chance to enter racing. The Austrian will first obtain a racing license and draw on his limited racing experience from previously racing in one-make cups for the Volkswagen Group. However, the Audi R8 LMS he will be piloting will be a big step up from anything he has previously driven. After all, it has 570 hp!
Baumgartner will team up with five-time Le Mans winner Frank Biela, three-time Le Mans winner Marco Werner and GT and sports car pro driver Pierre Kaffer.
While speaking about his impending endurance racing debut, Baumgartner said, "This task is totally exciting and I'm looking forward to driving races in an Audi. "During initial tests in the road-going Audi R8 I got to know the Nürburgring, and in the Audi R8 LMS ultra I've clocked a few kilometers on various tracks as well. I regard this task as one of the major projects in my life. The environment is perfect, the atmosphere is fantastic, and I feel really well taken care of by the Audi race experience. But it's also clear that I'm basically starting from scratch because this sport is new for me."
Excitingly, GTspirit will be exclusively and in person, following Baumgartner's development in the lead-up to the Nurburgring 24 Hours. Initial testing will begin in March 21st.