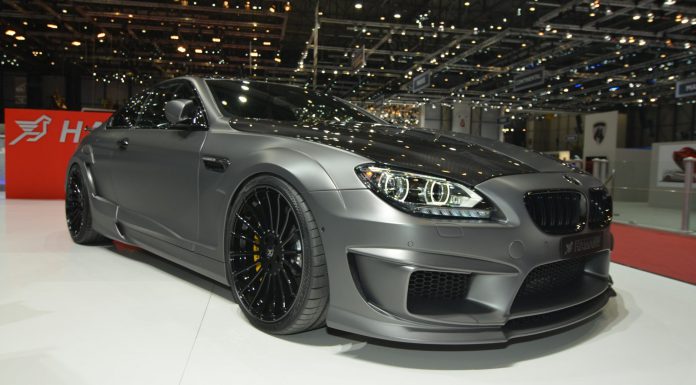 Hamann will showcase the BMW M6-based Hamann Mirr6r at the Geneva Motor Show 2014. This car is similar to the version they presented at last year's Geneva Motor Show. It gets a power upgrade, exterior refinements and a few goodies for the interior!
The Laupheim tuners took the BMW M6 Coupe into their workshop with 560 hp and 680 Nm. After some work, the 4.4 litre V8 now produces 620 hp and a peak torque of 760 Nm. Over the previous Mirr6r package displayed at the Geneva Motor Show last year, this is a 10% increase (an extra 60 hp and 80 Nm of torque) . The power is achieved through the use of an ECU tune which means it takes very little time to implement. With the new found power, the 0 to 100 km/h sprint is achieved in a time of just 4.2 seconds.
The Mirr6r features unique Forged Formula 21 inch wheels with a double-spoke design, central locking and matt black finish. Also available are the "Anniversary Evo 21", again a multi-spoke design with a classical matt silver finish. Vredestein Ultrac Vorti R tyres are fitted which carry the Hamann logo on their wall. At the front axle these measure 265/30 ZR 21 and at the rear axle they measure 305/25 ZR 21. Rather than offering a braking option, Hamann recommends the carbon-ceramic brake system of the M series.
The bodykit is Hamann's wide-body concept. It gets a bonnet made of visible carbon fibre, suspension that sits lower to the ground by up to 35 mm and a sports exhaust system. This car ditches the chrome look of last years car in favour of a matt grey special paint, "Stealth Grey".
The visible carbon fibre front hood weighs just 9.5 kg. The car also features a new front spoiler with a double lip, 40 mm wider fenders, side skirts with larger air intakes and a new rear skirt, which incorporates a carbon fibre Venturi diffuser. A new set of sports exhaust tips are finished in black anodised tailpipes.

Inside, many of the surfaces are finished in Alcantara leather. In true motorsport style, pedals and foot rest are made of high-class aluminium. Hamann can also add illuminated trims in chrome and many other materials.