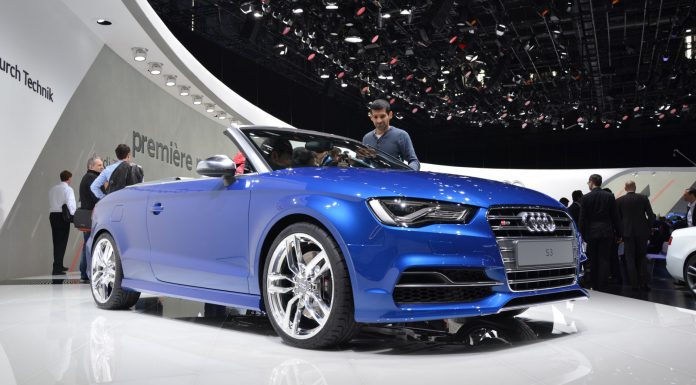 One of Audi's new releases for the Geneva Motor Show 2014 is the Audi S3 Convertible. The S3 Convertible expands the new Audi A3 Convertible range. It is the first to emerge with a performance oriented engine and drivetrain. Take a look at our live photos from the show floor!
Under the hood, the new Audi S3 Cabriolet remains identical to the four-door S3. That means it features a four-cylinder 2.0 TFSI engine with turbocharging and direct injection. It produces 300 hp which is available between 5,500 and 6,200 rpm and delivers 380 Nm of torque between 1,800 and 5,500 rpm.
While the engine remains the same as the saloon, the Audi S3 Cabriolet is not available with a 6-speed manual transmission like its sibling and instead only offered with the 6-speed dual-clutch S tronic 'box from Audi. Either way, the aforementioned 300 hp is sent directly to all four wheels meaning the car performs similarly to the S3 Saloon in a straight line.

If you want to find out more about the Audi S3 Convertible, take a look at our earlier article. Take a look at other news from the Geneva Motor Show 2014, take a look at our dedicated news channel!