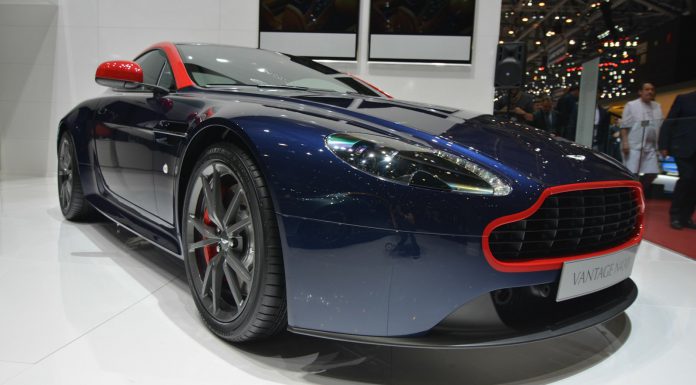 Aston Martin's biggest display for the Geneva Motor Show 2014 is the third iteration of its N-series car; the Aston Martin V8 Vantage N430. The N430 blends GT racer with road honed supercar. As such, it gets a number of important upgrades over the standard V8 Vantage. We took a closer look at the car on display!
The Aston Martin V8 Vantage N430 gets the same 4.7 litre V8 found under the bonnet of the standard car. Available in Coupe or Roadster form it will get a power boost up to 436 PS at 7,300 rpm, identical to the highly acclaimed Aston Martin V8 Vantage S. The N430 is now able to reach 190 mph whilst the 0-60 mph time is just 4.6 seconds.
What sets the Aston Martin V8 Vantage N430 apart from other V8 Vantage is the special features including the carbon fibre and Kevlar seas, 10-spoke forged alloy wheels that save 20 kg in weight and unique styling cues. James May won't be happy to hear that the Aston Martin V8 Vantage N430 has been tested extensively at Aston Martin's Nürburgring's Nordschleife Test Centre.

If you want to find out more about the Aston Martin V8 Vantage N430, check out our earlier article. For more Geneva Motor Show 2014 news, check out our dedicated news feed!