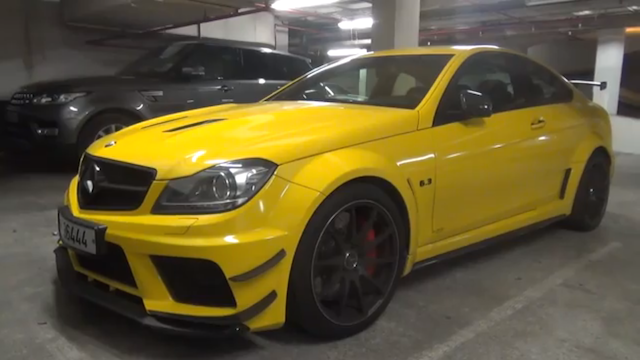 Supercar season in London has come early this year. There are a number of fantastic looking cars roaming the streets of Knightsbridge and Mayfair. One of those cars in a very angry looking Mercedes-Benz C63 AMG Black Series that has been wrapped in a bright and striking shade of yellow. The owner has also installed an MHP Exhaust System that sounds even better that the stock AMG system.
[youtube]http://youtu.be/_ht9qK28ruA[/youtube]
The C63 Black Series is a hardened, faster, power oozing, tyre-shredding animal that has been created by the looney Black Series department at AMG. The results are very impressive indeed. The standard C63′s respectable 451 bhp is dwarfed by the Blacks 517 bhp and it is also 2 tenths of a second quicker to 100 km/h, the sprint is over in just 4.2 seconds.