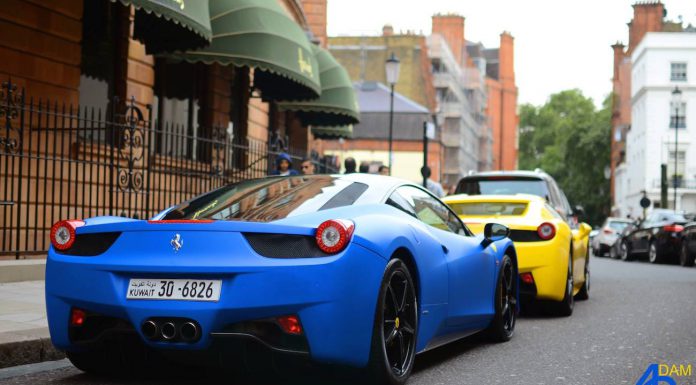 The Ferrari 458 Italia is a impressively capable car that presents owners with one of the best all-round packages that we have seen in years. Its well rounded characteristics mean that this Ferrari is happy to tootle around town and can take you to the local supermarket with relative ease, if kids were not pointing and adults snapping away with their camera phones you could convince yourself you were in a low slung, slightly harder car than average saloon car. But then you take a look the the delicate Manettino switch and you twist it into race. Now you're slinging the 458 into its element, the exhaust buzzes and howls and the car becomes a lot sharper and feels alive.
The Ferrari's lightweight design and 4.5-liter V8 produce 562 bhp and an engine tone that will melt your ears and get your heart racing. The 458 will smash past 100 km/h in just 3.4 seconds onto a top speed of 325 km/h all whilst producing drama that only a Ferrari can!
Here we have a stunning combination of a matte blue coupe from Kuwait and a Giallo 458 Spider parked next to one another that were snapped by Adam3046.