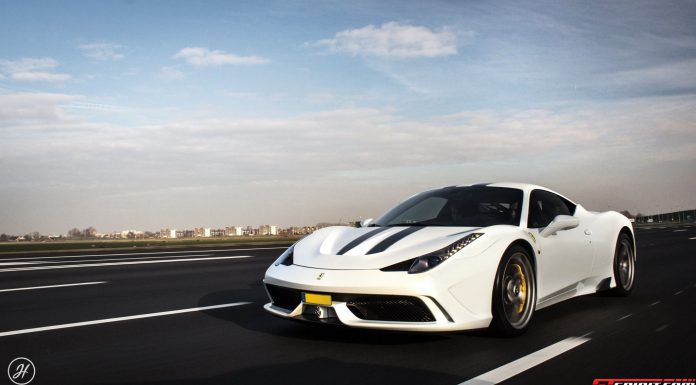 The Ferrari 458 Speciale is a serious speed machine. The car is an evolution of the hugely popular and already stunning 458 Italia with every aspect turned up to 11! Considering just how good the regular 458 Italia is, and the fact that the 458 Speciale is more powerful and features a host of new driver focused features, it isn't hard to understand why the Speciale has garnered such praise.
Here we gave a gleaming white example complemented by black NART (North American Racing Team) stripes. The dark matte finished wheels add to the contrasting stripes and give the 458 Special and even more aggressive look.
As a reminder the Ferrari 458 Speciale features a modified variant of the regular 458 Italia's 4.5-liter V8 engine. In Speciale guise, it delivers a total of 597 hp and 398 lb-ft of torque thus making it the most powerful naturally aspirated V8 engine ever produced by Ferrari. What's more, Ferrari claims that thanks to it delivering 133hp per liter, it has the highest ever per liter output of a road-going naturally aspirated engine. Maximum power is achieved at 9000 rpm while max torque is reached at 6000 rpm.
This jaw dropping image was captured by JaHNL on a highway in the Netherlands!