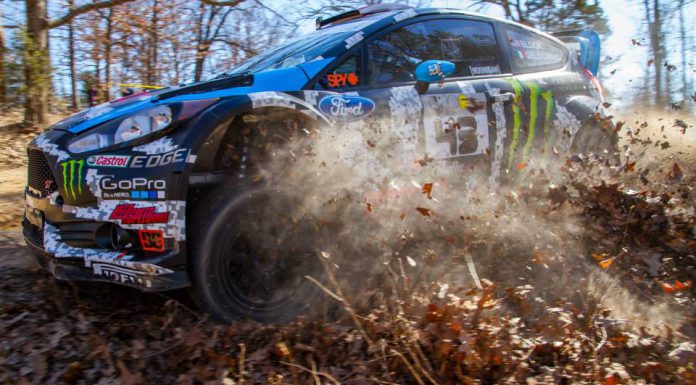 The second round of Rally America went down this weekend in Missouri – the Rally in the 100 Acre Wood. Hoonigan Racing's Ken Block and Alex Gelsomino won this round in their 2012 Ford Fiesta H.F.H.V, making this the 7th time the team has won the event out of the eight times they have entered. Block managed to maintain the lead from the first stage till the end.
Block said;
I felt as if I had very few mistakes this weekend. Unfortunately, my top competition fell out on day two and I was able to extend my lead. It took some pressure off, which I don't like, because I like to push hard. Instead, I was able to just enjoy these roads and put on a good show for the fans.
Tight on his back was Round One winner Subaru Rally Team USA's David Higgins who after the first day ranked only 20.6 seconds behind Block. Disaster hit Higgins on the second day after he suffered an engine failure forcing him into early retirement. This incident also broke a Higgins record of 22 consecutive podium finishes.
After Higgins retirement, Rockstar Energy Drink Rally Team's Antoine L'Estage and Marshall moved into second place but were also unfortunate after their Mitsubishi EVO X overheated on Stage 13, forcing them too into retirement. Subaru Rally Team USA's Travis Pastrana thus moved into second position. The action sports icon made a remarkable comeback after a 3-year absence not to mention he raced with a repaired broken leg and a dislocated ankle.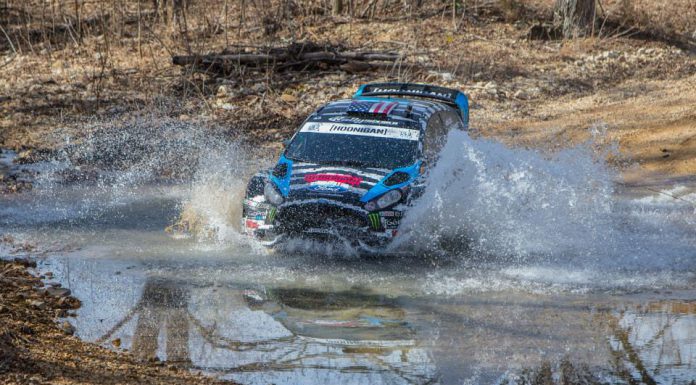 FY Racing's Adam Yeoman and Jordan Schulze went ahead to take third position in their 2007 Subaru WRX STI. 2013 Rookie of the Year Nick Roberts scooped the Super Production win, and finished fourth overall. Dillon Van Way and co-driver Andrew Edwards were second in the SP finish in their 2013 Subaru WRX STI and fifth overall. David Sterckx and Karen Jankowski entered the fifth Subaru in the podium by finishing third in the SP class.
The Rally in the 100 Acre Wood was cancelled on Stage 11 after an unrelated road emergency closed down one of their routes. Rally America resumes on May 2nd for the Oregon Trail Rally, keep it locked here for more!