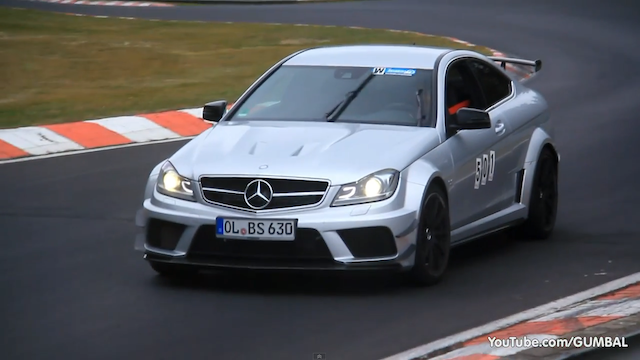 The Mercedes-Benz C63 Black Series by AMG is one of our favourite cars here at GTspirit. It's crazy naturally aspirated 6.2 litre engine is one of the very few brutal gas guzzling engines that remains not only at Mercedes but in the automotive world as even Mercedes will soon be phasing this engine out to be replaced with a smaller more efficient engine.
[youtube]http://youtu.be/1ku6xweYBg8[/youtube]
Besides the spectacular and wide bodied styling the Black Series offers a 6.3 liter V8 engine producing 517hp at 6,800rpm and 620Nm at 5,000 rpm. The ultimate AMG accelerates from zero to 100km/h in 4.2 seconds. For stopping power, massive brakes discs were installed, measuring 390mm at the front with six-piston calipers, and 360mm discs at the rear with four-piston callipers.
The video above show four of the brutal Mercs racing around the ring all making some brilliant V8 burbles on the way!