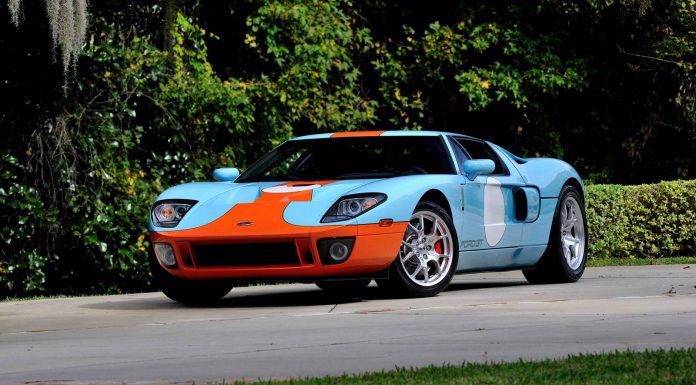 Ford's battles at Le Mans with Ferrari are legendary. The two automakers butted heads at the famed De La Sarthe circuit for six years in a row, spurring the creation of the renowned British-American racer, the Ford GT40.
In 1966, Ford had grown tired of losing to the Scuderia at Le Mans and asked Caroll Shelby and Holman-Moody to overhaul their race program. Shelby came up with the MKII GT40 after the MKI had failed to place at 24 Hour of Le Mans in both 1964 and 1965. Finally, in 1966, two of three GT40 MKII's finished in first and second, with the third car finishing a respectable fifth.
The GT40 won at Le Mans again in 1967 and moved on to race under John Wyer Automotive, now sporting the famous blue and orange Gulf Oil livery. A single Wyer-prepared GT40 won consecutive races in 1968 and 1969, solidifying the GT40 legend into the hearts of petrol heads everywhere. Years later, this iconic racer inspired the Heritage Edition of Ford's modern GT supercar which sports an identical Gulf livery, an excellent example of which was recently sold by Mecum auctions.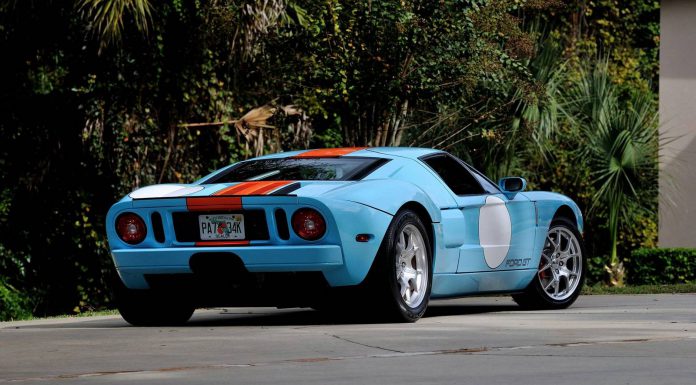 The GT Heritage Edition in question is one of only 434 examples ever built. The Heritage Edition sports all the features of the standard car, that's an all-aluminum space frame with double wishbone suspension, a supercharged 5.4 liter V8 producing 550 horsepower mated to a 6-speed Ricardo gearbox, BBS forged alloy wheels wrapped in Goodyear Eagle F1 tires and Brembo anti-lock vented disc brakes.
This particular car has always been garaged kept and has travelled only 2, 400 miles. The car comes complete with the owner's manual, books, a fitted cover and factory number kit. It sold at Mecum's auction in Kissimee, Florida for $320,000.